(October 25, 2018)  – Danville Community College (DCC) held a ribbon cutting ceremony for its new welding building and a rededication ceremony for its Charles R. Hawkins Engineering and Industrial Technologies (EIT) Building on Tuesday, October 23.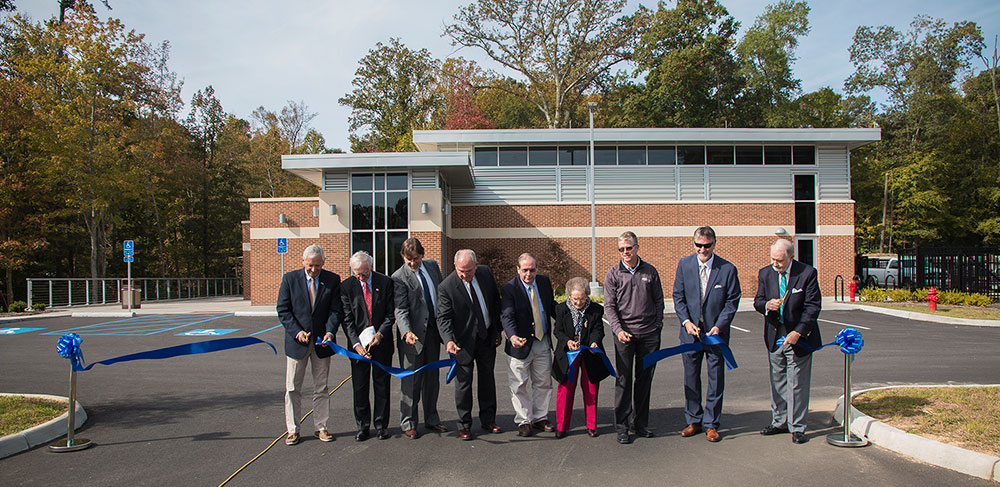 The joint investment by the Virginia Legislature and Virginia Tobacco Region Revitalization Commission, along with generous donations from the Webb Family, J.T. Minnie Maude Charitable Trust, Danville Regional Foundation, The Lincoln Electric Company, and the Pruitt Family Trust/Jarrett Welding, totaling more than $17 million, were utilized in the completion of these ambitious projects for the development of Southern Virginia's workforce.
 
"This is proof positive of what is right in American politics and American society," said DCC President Dr. Bruce Scism. "People who are able to have a vision and a shared dream so that we can make our own future and then figure out a way to work together to accomplish it."
 
Scism introduced the three guest speakers for the event: Senator Charles Hawkins, DCC President Emeritus Dr. Carlyle Ramsey, and Delegate Danny Marshall.
 
"I have the greatest admiration in the world for this college," Hawkins said to the assembled guests. "It has been able to meet the needs of this community by changing when it needed to change. DCC is not just buildings; it's a time machine. It takes us generations into the future. When you walk through these doors, you find your future. This community college has been a boardwalk for the economic development of this area of the state because it filled a void that nothing else could have filled."
 
Ramsey highlighted the demand for highly trained technicians in today's workforce during his address at the ceremony.
 
"We are suffering a serious shortage of technicians. This institution, these buildings, these labs, and these faculty and staff are going to deliver just the way it was delivered 80 years ago," Ramsey said, after explaining DCC's origins as Danville Textile School and the important role the college has played in the development and evolution of Danville, Pittsylvania County, and Halifax County throughout the last century.
 
"It is all about a trained workforce," Marshall said. "Trained workers make our area strong economically as they fill jobs and attract even more businesses and industries who are looking for skilled workers. We applaud DCC for its vision in excellent training for skilled trades."
 
The state-of-the-art facilities house a diverse mix of programs offering certifications in high-demand, high-paying career fields, including precision machining technology, welding, automotive, and dimensional inspection/metrology or quality control.
 
The new welding facility has 16 welding booths with Lincoln Electric welders, which are capable of handling all of the welding processes that are taught in DCC's welding programs.
 
"In all my travels with Lincoln Electric, this is the finest and most modern welding school I have seen," said Greg McQuaid with The Lincoln Electric Company.
 
DCC announced earlier this month its new competency-based accelerated welding program, which allows students to start class on any Monday and move through the program at their own pace.
 
The new precision machining technology lab allows every student to have their own workspace rather than taking turns during hands-on training exercises. The upgraded technology will also ensure graduates of the program are trained based on current industry standards, materials, and equipment.
 
The automotive analysis and repair program offers an up-to-date training facility complete with extra amenities. Multiple training terminals are located within the lab areas that allow students to access professional automotive information outlets online. Large monitors are located overhead for students to see up-to-date information, including camera systems to help instructors teach large groups of students. Air conditioning has also been installed in all areas of the facility so that students may find it easier to concentrate during class. New, larger classrooms have been constructed, outfitted with cutting edge information technology systems for better training of new software and testing programs. These enhancements will allow instructors to keep pace with the changing trends in automotive education.
 
DCC continues to train professionals in quality assurance and control with the implementation of its new facilities.
 
"This space is purpose built and has dedicated space for future growth of the program," said DCC Instructor of Dimensional Inspection/Metrology Josh Worthley. "Currently, the program is two semesters and the intent is to add another year for instruction in NDI and NDT (nondestructive inspection/nondestructive testing); the floor space is already available for this expansion."
 
Worthley also noted that IT-instructional support technology is greatly expanded in the new labs, with a full complement of large television screens and cameras to aid in demonstrations, in addition to more precise environmental controls.
 
"The dimensional inspection/metrology program is ideal for individuals who need to reinvent themselves, because of a job loss or any number of other reasons, and become a Quality Professional in a two-semester timeframe," Worthley explained. "The labs are outfitted for the precise training needed for someone to move from and $8-per-hour job to a $24-per-hour career."
 
The impact of these new amenities is also evinced by their economic development implications.
 
"New businesses looking to move to Danville need to see that we can provide them with skilled technicians," Worthley said. "There are very, very few educational institutions across the United States which have the amount of equipment and instructional capacity that DCC has to fill positions in new manufacturing businesses."
 
Danville Community College is a two-year institution of higher education under the state-wide Virginia Community College System. DCC's service area includes the City of Danville, Pittsylvania County, and Halifax County. For more information about the college's more than 100 programs of study, visit www.danville.edu.