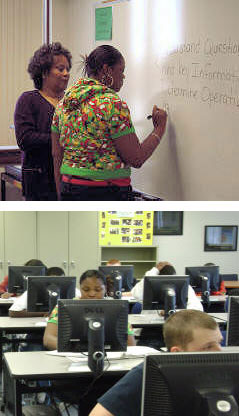 The Middle College is a program offered at Danville Community College that will help individuals 18-24 years of age obtain their GED and receive academic and career readiness training on the DCC Campus. Our goal is to help you further your educational background and prepare you to be successful in the work place.
The Middle College
1008 South Main Street
Wyatt Building, Room 213
Danville, Virginia 24541-4004
434-797-8564
Our service area consists of:
The City of Danville
Pittsylvania County
Halifax County
Our Pledge
The Middle College commits to do the following for the participant:
Provide assistance for the participant to obtain a GED.

Motivate participants and encourage the development of outstanding employability skills and work-ready attitudes.

Provide assistance for the participants to improve their basic and employability skills.

Provide assistance in overcoming barriers which may be experienced in securing a quality job.

Maintain regular monthly contact with the participant during the follow-up phase of the program.

Maintain contact with employers with the intent to help this participant stay employed and achieve a significant change in status during the follow-up period.
Steps to Success
Step 1: Complete 8-week GED Preparation Class
Step 2: Complete preparation for Employment Class
Step 3: Complete Financial Aid Process
Step 4: Obtain Workforce Certificate
Step 5: Participate in Career Counseling
Step 6: Select Desired Program of Study
Step 7: Complete a Certificate, Diploma or Degree Program at DCC
The Middle College Offers 8 Different Components in the Program
GED
Career Exploration and Development
Workforce Readiness Certificate
Leadership Development
Employment and/or Expected Outcome
Educational and/or Training Opportunities
Community Involvement
Contacts