Award: Associate of Applied Science
Click here to View Business Management and Marketing Program Outcomes
Length: A full-time student may complete this program in two years, which includes one summer term.
Purpose: The Business Management – Graphic Imaging Management Specialization is designed for persons who seek employment in graphic imaging management or sales and marketing positions. Both persons who are seeking their first employment in a managerial position and those presently in management who are seeking promotion may benefit from this program.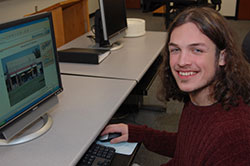 Occupational Objectives: 
The following occupational titles represent examples of possible employment opportunities:
Owner / Manager
Department Manager
Management Trainee
Sales/Marketing Representative
Admission Requirements: In addition to the admission requirements established for the College, entry into the Graphic Imaging Management Specialization requires completion of four units of high school English, one unit of keyboarding, one unit of high school mathematics, and one unit of vocational printing/graphics. Students with deficiencies in academic preparation may correct weaknesses in the College's Developmental Studies program or through fundamental printing courses offered by the Graphic Imaging Department.
Program Description: To receive the Associate of Applied Science Degree in Business Management (Graphic Imaging Management Specialization), you must complete a minimum of 66 credits with a grade point average of 2.00 or better.
Program Requirements: The following curriculum outline represents a typical order of courses taken by full-time day students. Part-time students may take courses in any desired sequence except sequence courses or others requiring prerequisites.
Program Outcomes
DCC Business Management—Graphic Imaging Management Specialization graduates will demonstrate
the ability to:
utilize industry standard computer software products in business communication media such as
written reports and business plans using word processing software (i.e., Microsoft Word) and
business presentations using presentation software (i.e., Microsoft PowerPoint);
perform and interpret basic business math, accounting, and business statistical calculations;
understand the basic concepts associated with business ethics and the importance of
developing and adhering to a strong set of generally-accepted ethical principles;
demonstrate basic principles of human relationship skills which can be used to successfully
interrelate with customers, associates, employees, and superiors in a business setting;
understand how the principles of basic economics (e.g., supply and demand, the American free
enterprise system, etc.) apply to successful business management practices;
understand basic legal and regulatory requirements for business and industry;
evaluate marketing strategies for successful products and services;
understand the basics of electronic publishing;
discuss the concepts of color separation and lithographic chemistry; and
perform basic graphic imaging industry production planning and estimating tasks.
Course Sequence
| First Semester | Lecture Hours | Lab Hours | Hours in Class | Credits |
| --- | --- | --- | --- | --- |
| AST 117 Keyboarding for Computer Usage | 1 | 0 | 1 | 1 |
| BUS 100 Introduction to Business | 3 | 0 | 3 | 3 |
| BUS 121 Business Mathematics I | 3 | 0 | 3 | 3 |
| ENG 111 College Composition I | 3 | 0 | 3 | 3 |
| ITE 115 Intro to Computer Applications & Concepts | 3 | 0 | 3 | 3 |
| MKT 100 Principles of Marketing | 3 | 0 | 3 | 3 |
| SDV 100 College Success Skills | 1 | 0 | 1 | 1 |
|   | 17 | 0 | 17 | 17 |
| First Semester | Lecture Hours | Lab Hours | Hours in Class | Credits |
| --- | --- | --- | --- | --- |
| AST 117 Keyboarding for Computer Usage | 1 | 0 | 1 | 1 |
| BUS 100 Introduction to Business | 3 | 0 | 3 | 3 |
| BUS 121 Business Mathematics I | 3 | 0 | 3 | 3 |
| ENG 111 College Composition I | 3 | 0 | 3 | 3 |
| ITE 115 Intro to Computer Applications & Concepts | 3 | 0 | 3 | 3 |
| MKT 100 Principles of Marketing | 3 | 0 | 3 | 3 |
| SDV 100 College Success Skills | 1 | 0 | 1 | 1 |
|   | 17 | 0 | 17 | 17 |
| Second Semester | Lecture Hours | Lab Hours | Hours in Class | Credits |
| --- | --- | --- | --- | --- |
| BUS 200 Principles of Management | 3 | 0 | 3 | 3 |
| ECO 120 Survey of Economics | 3 | 0 | 3 | 3 |
| ENG 115 Technical Writing | 3 | 0 | 3 | 3 |
| PNT 211 Electronic Publishing I | 2 | 2 | 4 | 3 |
| PNT 221 Layout and Design I | 2 | 2 | 4 | 3 |
|   | 14 | 4 | 17 | 15 |
| Third Semester (Summer) | Lecture Hours | Lab Hours | Hours in Class | Credits |
| --- | --- | --- | --- | --- |
| PNT 260 Color Separation | 2 | 3 | 5 | 3 |
| Fourth Semester | Lecture Hours | Lab Hours | Hours in Class | Credits |
| --- | --- | --- | --- | --- |
| ACC 111 Accounting I | 3 | 0 | 3 | 3 |
| BUS 240 Business Law | 3 | 0 | 3 | 3 |
| ITE 215 Advanced Computer Applications & Integration | 4 | 0 | 4 | 4 |
| HLT/PED Wellness Elective | 0 | 2 | 2 | 1 |
|   | 13 | 2 | 15 | 14 |
| Fifth Semester | Lecture Hours | Lab Hours | Hours in Class | Credits |
| --- | --- | --- | --- | --- |
| ACC 110 Introduction to Computerized Accounting | 2 | 0 | 2 | 2 |
| BIO 100 Basic Human Biology | 3 | 0 | 3 | 3 |
| PNT 231 Lithographic Chemistry | 2 | 0 | 2 | 2 |
| PNT 245 Production Planning and Estimating | 3 | 3 | 6 | 3 |
| BUS 298 Seminar and Project in Business | 3 | 0 | 3 | 3 |
| BUS 149 Workplace Ethics | 1 | 0 | 1 | 1 |
| MKT 170 Customer Service | 1 | 0 | 1 | 1 |
| BUS 108 Business Etiquette | 1 | 0 | 1 | 1 |
|   | 16 | 3 | 19 | 17 |
Total Minimum Credits for the Associate of Applied Science Degree in Business Management, Track 2 (Graphic Imaging Management Specialization): 66
Contacts
Sheila G. Wright
Professor of Printing Technology
Michael O. Giles
Assistant Professor of Printing Technology