The DCC Nursing program does not accept credits for nursing courses from colleges outside the VCCS.
Admission Requirements: DCC's nursing program is academically rigorous, with more applicants than available seats. Admission is on a selective (not first-come, first-served) basis, focusing on the student's past academic performance and results of the entrance exam.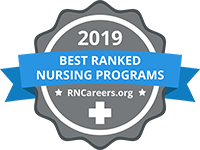 The RN program is approved by the Virginia Board of Nursing which allows graduates of the program to take the NCLEX. We do not have a national accreditation at this time but will be applying for it in the near future.
Requirements for full admission:
High school diploma, GED, or home school equivalency.
Students must have a minimum prerequisite curricular GPA of 2.5. If a student has repeated one or more of the prerequisite curricular courses, only the higher grade will be used in the prerequisite curricular GPA calculation.
Demonstrated proficiency in mathematics at MTE 1-5 or its equivalence
Minimum nursing entrance test score at 45th national percentile (a minimum overall score of 65.5%).
Successful completion of SDV 100 or 101
ENG 111 successfully completed with a grade of C or better
PSY 230 successfully completed with a grade of C or better
NUR 135 successfully completed with a grade of C or better
BIO 141 successfully completed with a grade of C or better. It is strongly recommended that BIO 142 and BIO 150 be completed prior to beginning the nursing program.
Current C.P.R. certification at the American Heart Association BLS provider level
Priority consideration will be given to students who have completed a sequence of preparatory college-level courses with a grade of B or better in three (3) attempts or less.
If accepted into the program, the student will be responsible for obtaining and paying for a physical exam, malpractice insurance, and a criminal background check.
Readmission Process: Students seeking readmission will follow the same procedures and submit a readmission application. Contact Cathy Barrett, Program Coordinator for Nursing, at 434.797.8422 or 8512.
Program Outcomes
Graduates will be able to:
Provide patient-centered care promoting therapeutic relationships, caring behaviors, and self-determination across the lifespan for diverse populations.
Practice safe nursing care that minimizes risk of harm across systems and client populations.
Demonstrate nursing judgment through the use of clinical reasoning, the nursing process, and evidence-based practice in the provision of safe, quality care.
Practice professional behaviors that encompass the legal/ethical framework while incorporating self-reflection, leadership and a commitment to recognize the value of life-long learning.
Manage client care through performance improvement processes, information technology, and fiscal responsibility to meet client needs and support organizational outcomes.
Demonstrate principles of collaborative practice within the nursing and interdisciplinary teams fostering mutual respect and shared decision-making to achieve stated outcomes of care.
Program Requirements: Students must complete 66 credits with a 2.0 GPA or better and must pass all courses with at least a C. Attendance and satisfactory performance in clinical portions of each class are mandatory.
Program Information
Minimum credits: 66
Length: 4 semesters (2 years) once accepted into the program. The Registered Nursing program is full-time.
Career opportunities:
Registered nurses are in high demand across the country. They may find employment as clinicians, supervisors or educators in a variety of settings, such as hospitals, clinics, industry, adult homes, day care centers/schools, doctor's offices, and home health care companies.
Registered Nurse: $59,360 - 73,980
Job growth: 15% from 2016-2026
*Median salary nationwide as of 2016. Source: BLS.gov
Division: Arts, Sciences, & Business
Contact: 434.797.8512
Course Sequence
| Prior To First Year | Lecture Hours | Lab Hours | Hours in Class | Credits |
| --- | --- | --- | --- | --- |
| NUR 1351 Drug Dosage Calculations | 2 | 0 | 2 | 2 |
| BIO 141 Human Anatomy & Physiology I | 3 | 3 | 6 | 4 |
| ENG 111 College Composition I | 3 | 0 | 3 | 3 |
| PSY 230 Developmental Psychology | 3 | 0 | 3 | 3 |
| SDV 100/101 College Success Skills | 1 | 0 | 1 | 1 |
|   | 12 | 3 | 15 | 13 |
1 MTH 126 is an approved substitute for NUR 135 until Fall 2019.
| First Semester | Lecture Hours | Lab Hours | Hours in Class | Credits |
| --- | --- | --- | --- | --- |
| BIO 142 Human Anatomy & Physiology II | 3 | 3 | 6 | 4 |
| NSG 100 Introduction to Nursing Concepts | 3 | 3 | 6 | 4 |
| NSG 106 Competencies for Nursing Practice | 1 | 3 | 4 | 2 |
| NSG 130 Professional Concepts | 1 | 0 | 1 | 1 |
| NSG 200 Health Promotion & Assessment | 2 | 3 | 5 | 3 |
|   | 10 | 12 | 22 | 14 |
| Second Semester | Lecture Hours | Lab Hours | Hours in Class | Credits |
| --- | --- | --- | --- | --- |
| BIO 150 Introductory Microbiology | 3 | 3 | 6 | 4 |
| NSG 152 Health Care Participant | 2 | 3 | 5 | 3 |
| NSG 170 Health/Illness Concepts | 4 | 6 | 10 | 6 |
|   | 9 | 12 | 21 | 13 |
| Third Semester | Lecture Hours | Lab Hours | Hours in Class | Credits |
| --- | --- | --- | --- | --- |
| SOC 200 Principles of Sociology | 3 | 0 | 3 | 3 |
| NSG 210 Health Care Concepts I | 3 | 6 | 9 | 5 |
| NSG 211 Health Care Concepts II | 3 | 6 | 9 | 5 |
|   | 9 | 12 | 21 | 13 |
| Fourth Semester | Lecture Hours | Lab Hours | Hours in Class | Credits |
| --- | --- | --- | --- | --- |
| NSG 230 Advanced Professional Nursing Concepts | 2 | 0 | 2 | 2 |
| NSG 252 Complex Health Care Concepts | 4 | 0 | 4 | 4 |
| NSG 270 Nursing Capstone | 0 | 12 | 12 | 4 |
| HUM Humanities Elective | 3 | 0 | 3 | 3 |
|   | 9 | 12 | 21 | 13 |
Contacts
Cathy Barrett
Program Coordinator for Nursing