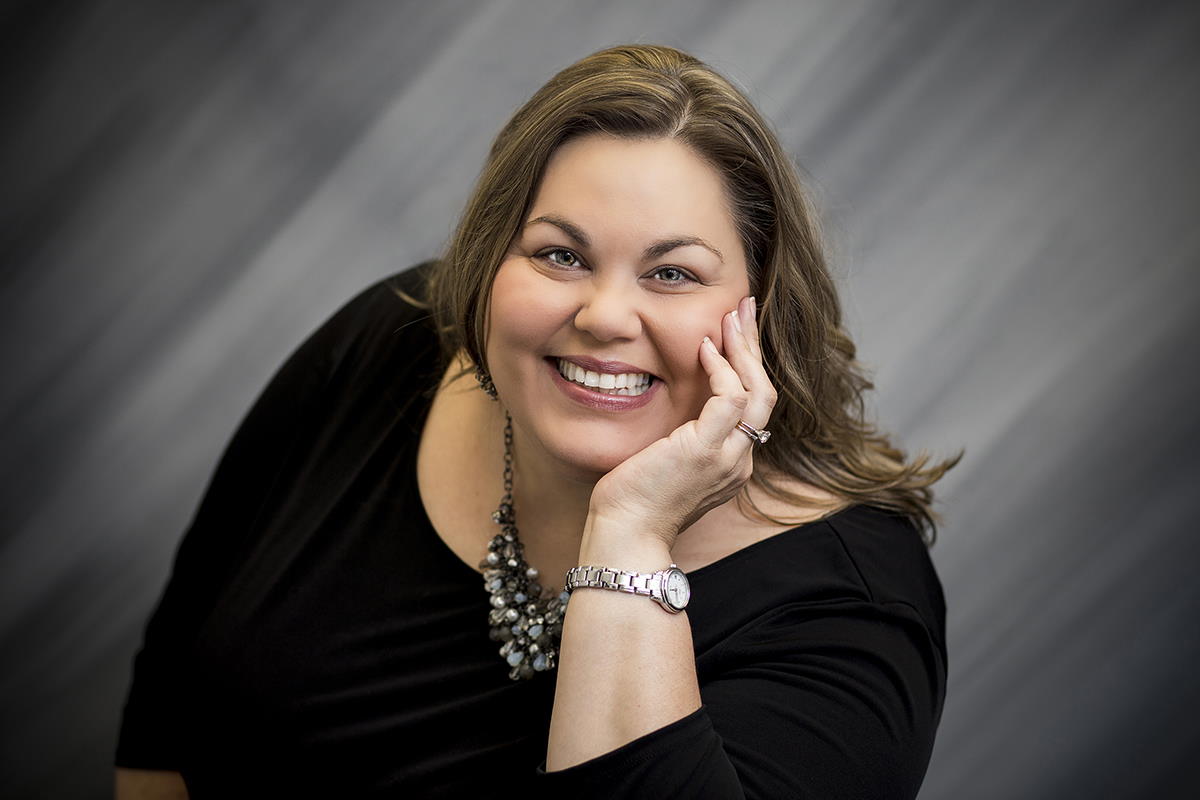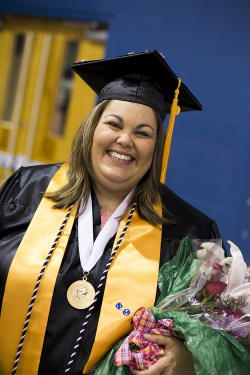 (June 4, 2018)  –  "Twenty-three years ago, she left college with a 0.9 GPA," Danville Community College President Dr. Bruce Scism said during DCC's commencement ceremony on Saturday, May 12. "She graduates today summa cum laude."
Danville Community College (DCC) alumna Kellie Smoak Wyatt came back to DCC in July 2015 with a mission: She was going to make up for her mistakes.
In the 1990s, Wyatt began her first stint at the college. In 1993, her major was business administration.
"I only passed four classes between the fall of 1993 and summer of 1995 and one of those was orientation," she explained. "I dropped out because I had no idea what I wanted to do and my priorities were primarily spending money and spending time with my boyfriend. I lacked motivation and self-discipline, as well. School was hard for me even though I was intelligent enough to do the work. Intelligence means nothing when you can't and won't do the work necessary to be successful. The big takeaway: I was a smart kid that made a series of poor choices."
Wyatt was ready to write a different story when she arrived back on campus in 2015.
"Taking the first step and enrolling at DCC is perhaps my greatest accomplishment as a student," she said. "I had to overcome years of fear and embarrassment over past academic failures in order to show up, by myself, on the steps of the Wyatt Building in July of 2015 and finally take control of my future."
Taking control is exactly what she did. Wyatt, now 42, not only enrolled full time while raising her three children and working as a cosmetologist, but she also actively participated in the Student Government Association (SGA), was invited to join International Honor Society Phi Theta Kappa (PTK), and, during her final semester at the college, participated in the work study program in DCC's Public Relations Office.
"I chose to attend DCC because I knew it was affordable, local, and would allow me to have a flexible class schedule, which was important, considering I am a non-traditional student," Wyatt explained. "Deciding to return to school at 40 when you have a family and a job can be a daunting task. DCC offered me what I needed, when I needed it, and found a way for it to be financially possible."
She double majored in liberal arts – social science specialization and liberal arts – humanities specialization.
Wyatt took her extracurricular responsibilities as seriously as her academic ones and quickly found herself in the spotlight for it, serving as vice president of PTK for four semesters, during which time the chapter earned third place in distinguished chapter officer team for the Virginia/West Virginia Region and other awards.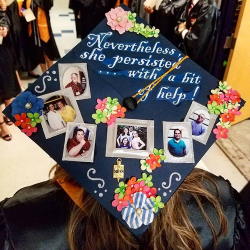 "The list of my favorite memories at DCC could go on for days," Wyatt said. "Meeting Ms. Vickie Taylor—she saw my potential and never allowed me to tell her 'no.' She found my wings and taught me to fly. I met an amazing group of students who I have the privilege of calling my friends, becoming close with faculty and staff members who were less like instructors and more like mentors and family, PTK inductions—you get to see the best and brightest our college has to offer and know that they will make our future a brighter place, having the honor of representing the Upsilon Phi Chapter of PTK at regional conventions and two international conventions, taking part in Fall Fest and Spring Fling celebrations on campus, and the public relations work study opportunity. I think I've found what I want to do with myself in the future thanks to my supervisor, Bobby Allen Roach. This has been an awesome experience."
Wyatt's next chapter has called her to use the skills she honed working with the college's Public Relations Office: Through the AmeriCorps VISTA (Volunteers in Service to America) Program, she will work for the Dan River Nonprofit Network for one year, beginning on June 11.
"I learned about this opportunity through a client that works for the United Way," Wyatt said. "She knew I had a strong background working with the public and, combined with my involvement in PTK, she felt this internship would be a perfect fit for me."
The Dan River Nonprofit Network provides educational tools, skills training, vetted resources, and networking opportunities to organizations in and around Danville.
As an AmeriCorps VISTA member, Wyatt will promote innovative and effective collaborative partnerships among regional nonprofits following the collective impact model through marketing, assessment, and data collection.
Wyatt said she is ready for anything.
"Danville is my hometown and I want to be part of the movement that makes it a success story instead of a cautionary tale," she said. "I am excited about interacting with and learning more about all of the area nonprofits and how we can help them make the most out of Danville's volunteer resources."
Once her time with the Dan River Nonprofit Network is complete, Wyatt plans to enroll at Old Dominion University, where she will major in communications and marketing.
Wyatt also offered some encouraging words for anyone considering their own return to college as a non-traditional student.
"Who you are now is not who you were then," Wyatt said. "Don't base future successes on past failures. The DCC experience is amazing. Because of my time at the college and the involvement of my professors, I was finally able to realize my full academic potential."
"DCC's defining characteristic is its determination to see its students succeed," Wyatt said, adding that small class sizes helped her to feel more connected with the campus. "This allows for a more personal college experience and the feeling that the faculty and staff have a vested interest in the students' academic progress."
As for what she's most proud of, Wyatt said that was centered on graduation day.
"I am most proud of showing my daughters that hard work and perseverance pay off and that it's never too late to follow your dreams," Wyatt said. "Well, that and the summa cum laude stickers on my two diplomas."
Danville Community College is a two-year institution of higher education under the state-wide Virginia Community College System. DCC's service area includes the City of Danville, Pittsylvania County, and Halifax County. For more information about the college's more than 100 programs of study, visit www.danville.edu.
This article is the third and final in a three-part series on recent Danville Community College graduates. You can read about DCC's 2018 commencement and see photos from the event by clicking here. Wyatt also provided a behind-the-scenes look at graduation this year. Watch the video below.