Who do you want to be tomorrow?
DCC participates in statewide Favorite Face Covering Day
DCC celebrated Favorite Face Covering Day as part of the Commonwealth of Virginia's third annual OnTheSquareVA employee engagement program this year!
Learn More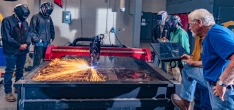 Danville Community College Supports Talent Pipeline and Economic Development in Southern Virginia
DCC will soon provide welding training to Morgan Olson employees. The effort to create a talent pipeline for the manufacturer will positively impact the workforce in the City of Danville and the surrounding area by creating 703 skilled jobs.
Learn More