Who do you want to be tomorrow?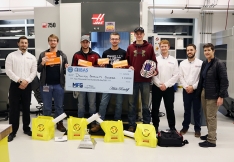 DCC Hosts, Wins State Manufacturing Trades Competition
The team from Danville Community College won first place in the Virginia Division during the recent Project MFG competition held at the Gene Haas Center for Integrated Machining on the Institute for Advanced Learning and Research's campus in Danville's Cyber Park.
Learn More
Project MFG: America's Next Great Generation Rises in Danville
When Project MFG, Next Generation Manufacturing Challenge rolls into Danville, pay close attention—You're not only looking at a contest to put manufacturing skills to the test, but you're also looking into the future; a much brighter future as Danville comes together to rise and shine.
Learn More