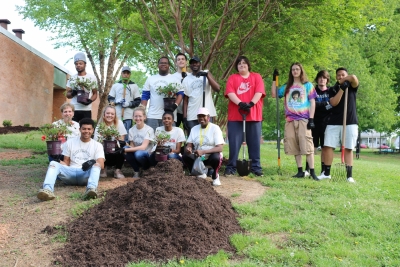 Danville, Va., April 26, 2019 — Danville Community College (DCC) partnered with the Center for Community Engagement and Career Competitiveness (CCECC) on Friday, April 26, as part of the community's annual event series: Day to Engage.
The event hosted 108 volunteers, with a combined total of 432 volunteer hours logged during the event.
"The Center for Community Engagement and Career Competitiveness was honored to partner with Danville Community College on its Day to Engage Neighborhood Beautification Project. It was heartwarming to see so many students, staff, faculty, community members, and especially our Home Depot volunteers out working alongside each other to transform not only the campus grounds, but also the surrounding landscapes on Kemper Road and South Main Street, as well," said CCECC Executive Director Dr. Billy Wooten. "This project brought out the best in our community and shows that when catalyzed as social change agents, we can do great things for the Dan River Region. We look forward to strengthening our partnership with DCC and offering more community engagement events in the near future."
The CCECC supports DCC, Piedmont Community College, and Averett University through its outreach efforts.
"Partnering with DCC and the CCECC has been great. We actually got results we can see," said Stephanie Poole with Home Depot. "We were happy to serve because we are the community and the community is us."
The total number of volunteer hours for this event equates to a financial impact of $10,985 on the community.
"This event pulled together staff, students, and faculty to bond as a team in an environment to work together and take pride in our neighborhood and campus," said DCC Associate Professor Sandi Satterfield.
220 members of the campus community came together to participate in the day's beautification and improvement activities.
"Volunteering was fun, and it was nice to see the community come together to make DCC a better campus," said DCC graphic design student Cody Jones.
And while the early afternoon saw a brief rainstorm blow through the campus, the weather was generally favorable for laying down mulch, painting kindness rocks, and the many other ways that participants came together to make a difference in and engage with their community.
"We couldn't ask for a better day," said DCC Human Resources Analyst Ann Taylor. "The campus looks great, and it was nice to get out of the office and serve."
Danville Community College is a two-year institution of higher education under the state-wide Virginia Community College System. DCC's service area includes the City of Danville, Pittsylvania County, and Halifax County. For more information about the college's more than 100 programs of study, visit www.danville.edu.
Add To Any Selector
Share
Facebook
Twitter