Danville Community College's (DCC) Cybersecurity Center of Excellence has been awarded an $850,000 grant from the United States Department of Labor to create the DCC Cybersecurity Short-term Training Initiative, the College today announced.
In earning this grant from the Federal government, the College will develop a virtual program, certified by the Department of Homeland Security and the National Security Agency, providing a 16-week training program of cybersecurity experts.
 
The 16-week program would permit the College to offer 60 students the opportunity to complete a certificate program in Cybersecurity Studies.  Specifically, the program would:
Enable graduates to identify security risks to computing resources
Assess threats and develop countermeasures aimed at protecting data and assets
Develop networking and security solutions, 
Balance business concerns and design infrastructure including devices and protocols.  
Graduates of the program would be eligible for employment with the more than 400 cybersecurity positions  available within two hours of Danville, VA.
The $850,000 grant is the result of support from Senators Mark Warner and Tim Kaine for this important project.
"As Chairman of the Intelligence Committee, I know how important it is to defend our nation against rising cyber threats," Senator Mark Warner said.  "Unfortunately, we'll be limited in our ability to do that if critical cybersecurity jobs continue to sit unfilled in Virginia and across the country. I am proud to know that this grant will support Danville Community College in helping train Virginia's cyber workforce and ensure that we have the personnel we need to tackle these 21st century challenges." 
"Senators Mark Warner and Tim Kaine have been so supportive of this project and their efforts are the reason why this project is a reality," Dr. Muriel Mickles, interim president of Danville Community College said.  "Danville is nationally recognized as a National Center of Excellence in Cyber Defense Two-year Education and we thank Senators Warner and Kaine for their vision and prioritization of this project."
"By 2021, the worldwide information marketplace reached $170 billion.  Only 5% of this market is currently protected from cyberattacks," Anne Moore-Sparks, president and chief executive officer of the Danville Pittsylvania County Chamber of Commerce stated.  "This program will help make our region the 'go-to' location for cybersecurity experts.  That is good for our nation and good for our community."
The announcement comes at a time when governments and private industry are grappling with a growing number of attacks on its systems by hackers around the globe.  It is estimated that by 2025, the cost for cyberattacks in the United States alone will top $1 trillion and $10.5 trillion worldwide .
"Few issues are as critical as cybersecurity in our nation," Mike Jones, Chair of the Danville Pittsylvania County Chamber said.  "Whether it involves access to an individual's identity, finances, energy usage, or security, nearly every American has been touched by a cybersecurity threat.  As nation states and nefarious individuals become bolder, we can only expect the threat to become worse.  DCC's cybersecurity program seeks to make our country safer, and we are proud to be a part of that solution."
Funding from the program was approved as part of the FY2022 Departments of Labor, Health and Human Services, Education and other related Agencies Appropriations Act.  The program will be funded through the Department of Labor's Training and Employment Services account.  DCC will serve as the primary recipient of the funding.
Danville Community College is a two-year institution of higher education under the statewide Virginia Community College System. DCC's service area includes the City of Danville, Pittsylvania County, and Halifax County. For more information about the College's nearly 100 programs of study, visit www.danville.edu.
Add To Any Selector
Share
Facebook
Twitter
Contacts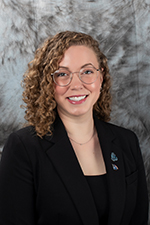 Faith O'Neil
Director of Public Relations & Marketing
Freedom of Information Act (FOIA) Officer