"When you came to DCC, you only had a dream," Dr. Muriel Mickles, interim president of Danville Community College (DCC) said to the 515 graduates and friends assembled for DCC's 55th commencement exercises on Saturday, May 14. "Now you have hope and the promise of a better future."
As dictated by tradition, the students were led into graduation by Associate Professor of Air Conditioning and Refrigeration Mark Bryant, faculty marshal, who carries the college mace as a symbol of the professor's role and preeminence at modern institutions of higher education.
Following the processional, Malachi Morris, a 2018 graduate from DCC's precision machining program, performed a rendition of the United States National Anthem on saxophone.
There were 203 honor graduates in the 2021-2022 academic year, meaning they earned their degrees with a grade point average of at least 3.2.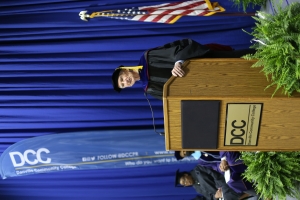 "You're the future physicians, nurses, attorneys, elected officials," DCC President Emeritus Dr. Carlyle Ramsey said during his keynote address. "You can do anything, and we can't wait to see you succeed in those roles."
Ramsey encouraged the assembled students and guests to learn from history and lead by example.
"'Commencement' means beginning," he said. "This isn't the end, it's a beginning."
From the college's three honor societies, Phi Theta Kappa Upsilon Phi Chapter, National Technical Honor Society, and Alpha Beta Gamma Honor Society, 37 student members graduated on Saturday.
DCC Vice President of Academic Affairs and Student Services Dr. Cornelius Johnson next called upon DCC's Student Government Association (SGA) Vice President Eben Leigh to recognize the SGA Teacher of the Year: Instructor of Developmental Mathematics Mary Motley.
Johnson then presented the college's annual Stephanie L. Ferguson Medallion of Courage award to Lakeisha Harden.
Graduation scholarship recipients were recognized by Shannon Hair, vice president of institutional advancement and development and executive director of the DCC Educational Foundation.
Commencement activities concluded with the movement of tassels from right to left on the students' mortarboards, followed by cheering and thunderous applause from the gathered friends, family, and community.
"We are celebrating you and your achievements," Dr. Mickles said. "And I hope that you will savor this moment for the rest of your lives."
DCC's summer session classes begin on Monday, May 23. The fall 2022 semester begins on Monday, August 22. The final week to register for fall 2022 classes is August 16 through August 19.
Danville Community College is a two-year institution of higher education under the state-wide Virginia Community College System. DCC's service area includes the City of Danville, Pittsylvania County, and Halifax County. For more information about the College's programs of study, visit www.danville.edu.
Danville Community College Class of 2022
* denotes honor graduate
Souad Sallah Abbass 
Jayla Y Adams 
Chloe Jane Adkins*
Evan Xavier Adkins*
Hunter Gibson Adkins 
MacKenzie Kaye Adkins 
Chantz Lee Alderson 
Angela Lechelle Allen 
Shmanda LaVonne Anderson 
Cole Grayson Andrews*
Rebecca Lynn Andrews*
Aaron Christopher Angell*
Kyle William Arendall*
Sandra Guadalupe Avalos 
Allison Brooke Bailey*
Saviana Danea Bailey 
Grayson Evan Ballance*
Ryan-Nicole  Barber 
Ashley Michelle Barbour*
Ja'Ron Malik Barksdale 
Lauren C Barksdale 
Kalie Michelle Barreiro 
Gordon Robin Bartholomew 
Kayla Marie Barts*
Jeremy Tyler Beadles*
Jonathon Kent Beck*
Robin Christina Belin 
Mariah Sioux Belt 
Loudon Thompson Bendall*
Abriana  Bennett 
Colin Scott Bennett 
I-Asiah Monique Bennett 
Albert Clinton Biagioni*
Shaina Avery Bihlear 
Bethani Kate Bishop 
Dylan T Blackstock*
Aman James Blackwell 
Tiffany Evette Blackwell 
Alana Kay Blair 
Allison Jane Blair 
Dalton Wayne Blanks*
Taylor Grace Blanks*
Erin Lillian Blevins 
Tanner Allen Boon 
Blake Alexander Boothe*
Julia Jennifer Box 
Tianna Mariah Boyd 
Tanaya Janee' Brandon*
Karissa MaKayla Breeden*
Antonio Carlos Briones*
Staneja Tamea Britton*
Jacob Abraham Brown 
Shane Landon Brown 
T'Niyah Ri'shea Brown 
Amelia Marie Brumfield 
Kaitlin Shae Buckner 
Gabriel Orion Burke 
Drew Neal Burnette 
Gavin Corbett Burton 
Cedrick  Byrd 
Brandy Leigh Callahan*
Eboni Lanette Calloway 
Stefani  Carbajal 
Hali Taylor Cardwell 
D'Andre James Carpenter 
Jada Nicole Carr*
Rebecca Elizabeth Carter 
Kennedy Reece Cassell*
Devin A Catton*
MilYada Maria Chaney 
Roshonda Shirlene Chapman 
Ross Nicholas Cipriotti*
Benjamin Robinson Clark*
Eli David Clark 
James David Clark Jr.
Tiara  Clark 
Denyse A Claude-Herzberg 
Samuel Ely Clemons*
Danielle Rhianna Cobb 
Stephanie Luck Cobbler 
DWona Lachele Cobbs 
Paden M. Coghill 
Mitchell Tanner Cole 
Tameka LaVonne Coles*
Brooke Nicole Comer*
Jacob Tyler Cornett*
Ana Jazmine Coronado-Rumbo 
Toni Ann Covington 
ToniAnn  Covington 
Skylar Kennedy Craft 
Kalee R Creasy 
Adam Wayne Crews 
Christopher Blake Crews 
Hunter Burke Crumpler 
Daniel C Dalton*
Emma Grace Dalton*
Terry A'Dron Daniel 
Isaiah Emmanuel Davis*
James Robert Davis*
Janella Dawn Davis 
Kaitlyn Marie Davis*
Parker Clinton Davis 
Renee'Ashia Shapree Davis 
Caleb Dawson*
Sienna Autumn Dawson 
Codarus Samuel Day 
Kinsey  Deering 
Anais  Diaz 
Ingrid Del Rosario Diaz*
Lindsay Grace Dibble 
Emma Marie Divinski 
Anthony Evan Dix 
Matthew Allen Dix 
Dawson Ray Thomas Doak 
Hunter Daniel Dodson*
Cole Doss*
Jacob Ryan Doss 
Erin Rochelle Dowdy 
Jordan Blaire Dowdy 
Samuel Jackson Dunavant*
Tiffany L Duncan 
Abby Jenee Grace Dunn*
Leah Jordan Easley 
Jailyn Brook East 
Phillip G East*
Timeka Aniece Echols 
Amaya I'Tyanna Edmunds 
Ethan Andrew Edwards*
Marley Abigail Edwards 
Austin Brian Elliott*
Dillon C Elliott 
Jason Scott Elliott*
Stephanie Escobedo Cisneros*
Landon Allexander Evans 
Brianna Marie Faison 
Hydea Simone Farmer 
Bridget Lee Featherston*
Romello Jamal Ferrell 
Sara Elizabeth Ferrell 
Tara Reynolds Ferris*
Jennifer Marie Fields*
Luke Carter Fitts*
CaDarrion Sanaa Fitzgerald 
Keturah LaShae Fitzgerald 
Nicholas Joseph Flack 
Nicholas Chance Flood*
Georgia Elise Flowers 
Jamia Antionette Fonseca*
Allen Clarence Ford Jr.*
Noah Walter Foster 
Shanel Whipple Foster 
Taylor Nayah Foster*
K'lecia Alexis Fountain 
Whitley Zhane' Fountain 
Davis Jennings Fowlkes 
Holden Thomas Francis 
Brandi Nicole Franks 
Iyonnia Nakiya Frazier 
Stephanie Garcia Hernandez*
Denasia Sherpree Garland 
Denise Lantrelle Garland 
Erica Nicole Garner 
Alex Hunter Gasper*
Jonathan Noel Gauldin*
Grant Williams Gibson*
Landon Thomas Gibson 
Patrick Dwayne Gibson*
Christopher Aaron Glass 
Samuel Charles Glasscock*
Haley Nicole Goins 
David Michael Golden III*
Evan  Gotham 
Courtney Dorsett Graham 
Kim  Grainger 
Kameya Dakoiya Graves 
Sierra Janell Gray 
Angela Dawn Gregory 
Meyoncee Tyree Gregory*
Brandon Derek Griffin 
Brooke Regan Griffith 
Haley Renee Guerrant 
Kellie S Gunter 
Tonya Renée Gunter*
Mekkayla Alaundra Hairston*
Kamijsha  Haley 
Sally Haley*
Hannah Rhea Hall 
Jacqueline D Hall 
Joseph Eric Hammell*
Patrick Martin Haney*
Brianna Marie Hanks 
Tonie K.R. Hanks*
LaKeisha Da'Shon Harden 
Sariah DeShaye Harden 
Amondria Camille Harris 
Ashanti Le'Ra'H Harris*
Erva DeJean Harris 
Hunter Blake Harris 
Morgan Alexandra Harris*
Mallory Thomas Harvey*
Elijah Scott Hawkins*
Jordan Paige Hawkins 
Melissa A Haynes*
Alyssa Noelle Heddings*
Dylan Wayne Hendrix 
Krista Love Henry 
Madelline  Hernandez 
Gissell Guadalupe Hernandez-Zuñiga 
Zachary Luke Herrera 
Braxton Owen High*
Timothy Gene Hill 
Jackson Wade Hines 
Jennie Lynn Hodge*
Miesha Tamirah Holland 
Wesley Gene Honeycutt 
Mya Nicole Houston*
Heather Renee Howard*
Melissa May Hubbard 
Lillian Jade Hudgins 
Blake Garrett Hughes 
Brandi Winstead Hughes 
Danita  Hughes 
Kevin L Hughes 
Quintasia Ta'Mya Hunt 
Kaleb Coleman Hyler 
Peyton Craig Hylton*
Curtis Arthur Inge Jr.
Donald Lester Ingram II
Cesar Miguel Iraheta 
Denazhe' Isaiah Jackson*
Denazhé Isaiah Jackson*
McKenzie Nicole Jacobs 
Sherniqua Myeshia James 
Caitlyn Nicole Jarrett 
Lindsey Blake Jennings 
Summer Kamya Jernigan 
Anessa  Johnson 
Levi James Johnson*
MaKayla Amanti Johnson*
Tanisha Thacker Johnson 
Zaire Feneé Johnson 
Destini Nicole Jones*
Landon S Jones*
Gavin  Jordan 
Tessa Dawn Kaesmeyer*
Lauren Carol Keatts 
Ciara Lashaun Keen 
Joshua Dale Keeton*
Alette Audeá Kegerreis*
Jessica Talley Keller*
Sandra Lee Kelly 
Dylan Matthew Kendrick*
Maria Khalid*
Mohammad Abdul-Hadi Khan*
Colby Wayne King 
Deonne LaNise King*
Joslin Alicia King 
Kennedy B. King 
Khadijah Latoya Kirby 
Ethan James Kirkhart*
Joshua Adam Kittrell*
Chloe Hilton Lacks 
Sarah Ryan Lacks*
Nickolas  Langley 
Taliiya Monee Lanier 
Sara B Lankford 
Andrew James Law*
Elizabeth Ann Leavitt 
Latoya Corinthia Lee 
Samantha Nicole Lee*
Eben Parker Leigh*
Lamont Xzavier Leigh*
Wyatt B Leonard*
Hunter Bryan Lewis*
Laura Beth Lewis*
Tammy Maria Ligon 
Adrian M Lilly*
Jason Millard Lind 
Jacob Kevin Lindsey*
Catrina Latarsha Lipscomb 
KeiShauna Mar'Chelle Logan 
Robert Eugene Love 
Tyree J Lovelace 
Jonah Chase Lukin 
Sydney Rose Mahoney 
Crystal Manning*
Endia LeFaith Marable 
Deanna Nicole Marcotte 
Jacob Lee Marshall 
Camron Lynn Martin 
Jakhi Ihsan Martin*
Jerrica Shavon Martin 
Jordan Ree Martin 
Sarah Michelle Martin*
Trinity Alease Martin*
Lebryont Lekieth Martin-McCain 
Joshua Kaleb Mattox 
Savannah Grace Mayberry 
Cassidy Layne McBride 
Sydney Brooke McBride*
Peyton Jaleel McCoy 
Camila Michelle McDaniel 
Holly Nicole McDowell*
Morgan Brooke McDowell*
Alyssa Lynn McFalls 
Lauren Nicole McFarling*
Shakiya Nazjeh Mckenzie 
Jared Wade Mckinney*
Takella  Mease 
Jazmin  Medrano Barajas 
Evan Robert Miller 
Jacob David Miller*
Jennifer Sue Miller*
Monique K Miller*
Trinity Ann Miller 
Jessika Elisabeth Millner*
Carter Douglas Mills 
Noah Braden Mills*
Emmalee Kay Mitchell 
Maisey Leanna Mitchell 
Geovon Latrell Moon 
Kendall Paige Moore*
Bobby Giles Moran*
Mikayla Allison Morris*
Zachary Todd Morris*
Alexis Nicole Morrisette*
Mary Ella Morrison*
Miles Eulis Morrison*
Gabrielle Renee Moser*
Taylor Brooke Moser 
Bobbi Jo  Mullins 
Aubree Michelle Murray*
Cheyenne Rae Myers 
Caleb Andrew Nelson*
Jacob Wayne Nelson 
Wyatt Kole Nelson 
Brianna Nicole Nester*
Dylan Scott Newton 
Haley Brianna Newton*
Lance Elwood Newton 
Amber Michelle Nocilla 
Jennifer LaNae Nuckles 
Abigail Nicole Nunley*
Joel Keith Oakes*
Joshua Andrew Oakes 
TaKayla Armani Oakes 
Kaitlin Grace Oldham 
Phillip Dwain Owens*
Hannah Jane Parker*
Lydia Elaine Parker*
Varun Patel*
Kelonda Harris Pauley 
Carrington Tyrese Payne*
Cherlonda Yvette Pearson 
Kimberly Ayers Phelps*
Megan Nicole Philpott*
Joshua Blake Piedra 
Lavar Lamont Pinchback 
Serious Clydarius Pinchback*
Justin Glen Pine*
Makayla Denise Pinkney*
Erin Elizabeth Plemons 
Thomas William Andrew Plitt*
Justin Thomas Pool*
Trevor Joseph Pope*
Lydia Nicole Popoca 
Shannon Marie Popoca 
Mark Allen Porter 
Brandon Morris Powell 
Bryanna Renee Powell 
Grayson Lee Powell*
Tatalia Ayanna Preston*
Holly S Price 
Daniel Thomas Prigg 
Erin Elizabeth Pulliam*
Penny H Purnell*
Sydney Kate Quesenberry 
Bretley Joel Quintero*
Gloria Inocencia Ramirez 
Blanca Estefhanie Ramirez Cisneros 
Kitzya  Ramirez Leon 
Kayla Renee Reamey*
Elijah Randall Reed*
Quentin Rontae Jamal Reid 
Austin Blayke Revis 
Kimberly Diane Revis*
Ethan James Reynolds*
Carter Rollins Rich 
Beverly Renee Riggs 
Tania Maria Rivera Cooper 
Kaelyn Nicole Roach*
Tanner Seth Roach*
Melinda Gale Roberts 
Gretchen Nicole Robertson 
Heaven Mariah Robertson 
Dillon Campbell Rojas 
Madelyn Nicole Ross 
Nickicia Tasha Rosser 
Adriana Renee Royal 
Rachel Grayce Royster*
Amanda Lee Russell 
Justin A Russell 
Rafet Gokce Sams*
Cameron Bryce Satterfield 
Taylor Nicole Satterfield*
James Dean Saunders*
Stephanie Denise Schulerud 
Clayton Duval Schultz 
Hayden Paul Scolpini 
Walter Sims Sease 
Dylan Shawn Seay*
Rebecca Nicole Shadrick*
Ryan Matthew Sheedy*
Allison Nicole Sheffield 
Joshua Steven Shelton*
Maryjane Bond Shipman 
Kimberly Mariana Sifuentes-Caballero 
Gary Wayne Simmers*
Summer Renee Simmons 
Shana Lynetta Singleton 
Jeremiah L. Slaughter 
Hannah Murphy Sloman 
MiKyler Deshareion Smalls*
Alkyna Koria Smith 
Cody Austin Smith 
Joshua Lamar Smith*
Latoyia Nicole Smith 
Sarah Melissa Smith*
Shavonne Jones Smith 
Taisiana Decatur Smith*
Sarah Elizabeth Snead*
Sofia Christine Solis 
Enming Song*
John Brandon Spencer*
Janessa Jamaria Stevens 
Melody  Stoffel 
Jeffrey  Stone 
Cedric Sebastian Stovall 
Keira Lynn Strohm*
Lori Andrews Swanson 
Meanna Antwanette Sydnor 
Khaleeh Keshun Tarpley Jr.
Ethan  Tate 
Jesus  Tavares 
Jasmin Fay Taylor 
Katrice Monique Terry 
Quantez Dashawn Terry 
Kennedy Taylor Thacker*
Kimball Curtis Thaxton 
Ireonna Mykia Thomas 
Jacob Wesley Thompson 
Leah Hope Thompson*
Stewart David Thompson 
Aleise Makena Thornton 
Devenia Chandler Thorpe 
Stone Allen Thurman 
Abigail Marie Tiffany 
Jamari Raekwon Torian*
Alberto Jose Torres 
Jacob Lester Tosh*
Leeah Nicole Towler 
Jamiyah Shacolby Townes 
Brianna Jade Townsley-Russell 
Kristina Marie Trivett*
Gage Scott Turner 
Caleb Joshua Van Ness*
Jeffrey  John Van Ness 
Christopher Michael Van Norden II*
Katie  Varner 
Desmond  Virgile 
Emily Brooke Walker 
Hannah Ann Walker 
Rodney O'bryant Walker 
Peyton Olivia Wallace*
Latia Danae Waller 
Katelyn Smith Waltz 
Vernon Eugene Ward 
Ampazzeona Quarleat Warren 
Madison Brooke Watkins*
Ethan Lee Weatherford 
Kacee Brooke Weatherford 
Steven Christopher Welch*
Caleb James Wells 
Lydia Carter Wenzel*
Luke Carroll White 
Melissa Ann White 
Kelsey Lynn Whitlock*
Gary  Wiles 
Gavin M. Wiles 
Eric Thomas Wilkinson*
Meredith Perri Williams 
Nicolas Elijah Williams 
Tatyana Alia Williams 
Jeremiah Louis Williamson*
Akeyra' Tara'h Willis 
Jacqueline Dare Willis 
Kristopher Thomas Willis*
Layton Thomas Wilson 
Simone Uniqua Wimbush 
Veaundra Joane Winn 
Kayla Nakia Wise*
Jessica Cheyenne Witcher 
Kenneth Michael Wood*
Zaveyon Makel Woodall*
Haylee Lynn Woods 
Justin Logan Woodward*
Alexis Nicole Wright 
Justin Terrell Wright 
Courtney Cassada Yarbrough*
Emilee Paige Yeatts 
Zachariah Lewis Yeatts 
Shauntiqua Marie Yourse 
HaiLan  Zhao 
Jenna Grace Zickafoose 
Colin James Zurawski*
Add To Any Selector
Share
Facebook
Twitter
Contacts
Bobby Allen Roach
Public Relations and Marketing Specialist III
Virginia Community Colleges Association College Contact