Danville, Va., March 14, 2019 — Danville Community College (DCC) launched an innovative registration initiative this week with the hiring of two full-time enrollment navigators for its one-door model of new student enrollment.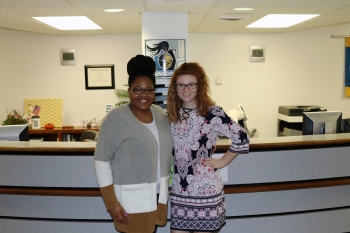 Under this model, Enrollment Navigator Jazzmine Williams and Assistant Enrollment Navigator Casey Moore will be the first faces many prospective students see when they arrive on campus. Together, Williams and Moore will, as their titles imply, assist new students with navigating the application and enrollment process in a single location: The college's Wyatt Building Admissions Office front desk.
"When students walk into the college with a goal or career idea in mind, an enrollment navigator at the front door will be able to guide the student through his or her next steps and help the person determine if he or she should enroll in a non-credit workforce program or a degree program," said DCC Vice President of Academic and Student Services Dr. Debra Holley. "Currently, non-credit and credit are handled in different departments and buildings. Ideally, the non-credit workforce program will also stack into the credit/degree program if the student decides to continue his or her education after completing the non-credit program. This means greater efficiency for students and provides a clear path for their success."
Williams and Moore are both DCC alumnae and have worked at the college before.
"I began my journey at DCC as a dental hygiene student and later returned to work part-time in the admissions office after earning my B.S. in human services from Old Dominion University in 2013. I worked as the VPT coordinator and interim transfer counselor from 2013 to 2015. I left DCC in 2015 and served as the assistant director of transfer admissions at Radford University until 2018 and returned to DCC as a student success coach," Williams explained.
"I started off as a dual enrollment student in high school. After high school, I became a DCC Knight and did work study in the counseling office. A year or so later, I worked part-time in the admissions office," Moore said.
DCC Coordinator of Enrollment Management Cathy Pulliam highlighted the impact the two new positions will have at the college.
"Casey and Jazzmine will be greeting new students in person and by phone and working with them to make their next steps towards enrollment," Pulliam said. "They will be able to help students complete the admissions applications, make placement testing appointments and/or assess multiple measures for program placement, complete program placement SIPP forms, and sign students up for DCC ROCKS, our new student orientation. They will also be trained to assist folks with workforce services admissions for non-credit."
Both Williams and Moore added that their experiences as students and employees at DCC have been unforgettable.
"DCC is the place to be because of the positive atmosphere. The administration, faculty, and staff are so supportive and our students are extraordinary. I love seeing all of the smiles around campus," Moore said. "My dream is to help every student to accomplish their dreams and help them become a more successful person every day. After helping a student in admissions with an application, seeing them walk across stage at graduation is a delightful feeling, knowing you helped them toward their goals in life."
"I think that DCC is awesome because we have faculty and staff that seem to really care about our students," Williams added. "As an enrollment navigator, I hope to be a positive first line of contact for prospective students and a beneficial resource for our current students."
Summer and Fall 2019 enrollment starts on April 1. Call 434-797-8467 or email admissions@danville.edu to learn about the academic and training opportunities DCC has for you.
Danville Community College is a two-year institution of higher education under the state-wide Virginia Community College System. DCC's service area includes the City of Danville, Pittsylvania County, and Halifax County. For more information about the college's more than 100 programs of study, visit www.danville.edu.
Add To Any Selector
Share
Facebook
Twitter