DANVILLE, VA — Landon Woods of Yanceyville, NC, credits the success of his business, Revision Solar LLC, to three things: God, hard work, and the Business Management degree he earned at Danville Community College (DCC).  
"When I began deciding what to pursue, I read that DCC had one of the best community college business programs in the state," said Woods.  
Woods completed his degree in 2013 and began his solar energy business in 2018.  
"I have worked countless 18 hour days since we began," said Woods. "Every time we expanded, I risked everything to buy the equipment or hire personnel we needed to grow." 
Woods is currently managing sites in four states and acquired sites in the last 30 days that doubled the size of the company.  
"We currently manage roughly 1,000 acres of solar farms," said Woods. "The growth has been incredible." 
Quick to credit DCC for the role his education has played in his success, Woods recalls the impact the College has had on his life.  
"Graduating from DCC gave me a firm foundation to be knowledgeable enough to start my own company," said Woods. "Professor Linda Wilborne had the biggest impact on me as a student because of her business experience, insight, and expertise." 
Danville Community College offered Woods the flexibility and support that he needed to complete the Business Management Program. 
"I took a combination of online and in-person courses," Woods continued. "Some of my best memories at include meeting wonderful people and playing ping pong with lifelong friends in the Student Center." 
Although nothing can replace the hard work, sleepless nights, and perseverance that Woods has given to the development of his business, he notes that the foundational education he received at DCC have him tools he needed to succeed. 
"DCC has an excellent business program for students who want to become entrepreneurs," said Woods. "I highly recommend their program to anyone willing to put in the work." 
To begin your journey in the Business Management program at DCC, visit danville.edu/nextsteps and fill out the interest form.
Add To Any Selector
Share
Facebook
Twitter
Contacts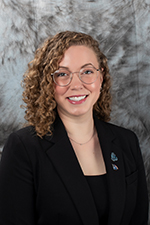 Faith O'Neil
Director of Public Relations & Marketing
Freedom of Information Act (FOIA) Officer