Thanks to an $850,000 grant awarded by the United States Department of Labor, the Danville Community College (DCC) kicked off the DCC Cyber Security Short-term Training Initiative on Monday, August 28th, 2023 with an inaugural cohort of 17 participants.

In partnership with the Danville/Pittsylvania County Chamber of Commerce, DCC accepted the grant in order to develop and implement a 16-week program that is certified by the Department of Homeland Security and the National Security Agency to train new cyber security experts.

The 16-week program offers students the opportunity to complete a certificate program in Cyber Security Studies.  Specifically, the program would:

•    Enable graduates to identify security risks to computing resources
•    Assess threats and develop countermeasures aimed at protecting data and assets
•    Develop networking and security solutions, learn about artificial intelligence, and coding
•    Balance business concerns and design infrastructure including devices and protocols.  

Graduates of the program will be eligible for employment with the more than 400 cyber security positions available across the state of Virginia. Remote work options are also available to work from home in Danville.

Mark Funkey, Vice president for Workforce Service said, "Beyond our exceptional partnership with the Danville/Pittsylvania County Chamber of Commerce, this grant has also helped to foster a partnership with Rural Empowerment, LLC, a company committed to growing the workforce in rural communities like Danville. The partnerships developed through the work of this grant allow participants to complete the training for no cost and, if eligible, to earn a stipend from Rural Empowerment to help support participants' ability to complete the training. We are thrilled to have a large first group starting and are excited to see how they progress."

The $850,000 grant is the result of support from Senators Mark Warner and Tim Kaine for this important project.

"As the Chairman of the Senate Intelligence Committee, I know that attacks on our country's cybersecurity systems are at an all-time high, and we need to build a skilled workforce capable of dealing with these threats," said Sen. Warner. "I was proud to support the Danville Community College Cyber Security Short-term Training Initiative grant and its mission of providing students with the skills they need to work in Virginia's competitive IT industry. I know that this inaugural cohort will be equipped to handle the cyber security threats facing our Commonwealth."

The kick-off of this important training comes at a time when governments and private industry are grappling with a growing number of attacks on their systems by hackers around the globe.  It is estimated that by 2025, the cost of cyberattacks in the United States alone will top $1 trillion and $10.5 trillion worldwide.

"Our goal is the development of a workforce to address the significant challenges associated with cybersecurity to the national and local economies," said Anne Moore-Sparks, President/CEO of the Danville/Pittsylvania County Chamber of Commerce. "Specifically, we are looking to enroll and to complete students through the training program with an NSA and DHS certified cyber security training certificate to become employed in the highly lucrative cyber security job market.  The goal is to place students into this workforce within the first year of completion of the training."

Funding from the program was approved as part of the FY2022 Departments of Labor, Health and Human Services, Education, and other related Agencies Appropriations Act.  The program is funded through the Department of Labor's Training and Employment Services account.  DCC serves as the primary recipient of the funding.

For more information about Cyber Security Training at Danville Community College, visit www.danville.edu.
Add To Any Selector
Share
Facebook
Twitter
Contacts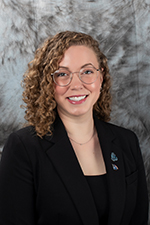 Faith O'Neil
Director of Public Relations & Marketing
Freedom of Information Act (FOIA) Officer