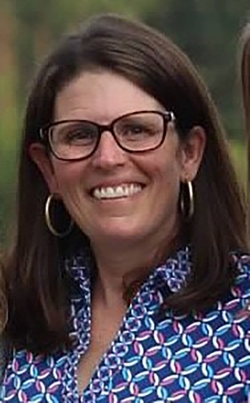 Danville, Va., June 27, 2019 — Danville Community College (DCC) welcomed a new member to its board earlier this year.
Serving as one of three representatives from Halifax County, Kathryn Roberts began her first term with the college in March.
Roberts said she grew up in South Boston, but moved to Kilmarnock, Va., in 1983 when she was 11 years old and returned to South Boston in 1997 after college.
Roberts is in good company among the dossier of past and present DCC board members: Her mother-in-law, Virginia Roberts, also once served in this capacity.
The DCC board is comprised of nine representatives, with three individuals appointed by each political subdivision that sponsors the college to serve a four-year term on a staggered appointment schedule from the City of Danville, Pittsylvania County, and Halifax County.
"I am very honored to be appointed to the DCC board. I am flattered that I was chosen to represent Halifax County in such an important role to continue the mission and values of DCC," Roberts explained. "I value education and hope that my service will benefit Halifax County residents seeking to further their education."
Her husband, W. Christian Roberts, served on the DCC Building Advisory Board, which assisted with the building trades program.
Roberts is the chief operating officer with Rob Land Development & Construction, Ltd. and said that she is excited to help connect residents to the many educational opportunities available at DCC.
"I look forward to being a voice for Halifax County in the community college system," Roberts said. "I hope to bring awareness of DCC programs to Halifax County students and I am looking forward to being a part of the new leadership and upcoming advancement of DCC."
Roberts earned a bachelor of science degree in horticulture from the University of Georgia and a bachelor of science degree in therapeutic recreation from Longwood University and currently serves on the Sentara Halifax Regional Hospital board.
Danville Community College is a two-year institution of higher education under the state-wide Virginia Community College System. DCC's service area includes the City of Danville, Pittsylvania County, and Halifax County. For more information about the college's more than 100 programs of study, visit www.danville.edu.
Add To Any Selector
Share
Facebook
Twitter