When Project MFG, Next Generation Manufacturing Challenge rolls into Danville from November 13 through 15 at Danville Community College (DCC), pay close attention—You're not only looking at a contest to put manufacturing skills to the test, but you're also looking into the future; a much brighter future as Danville comes together to rise and shine. 
With an aging workforce and retirements on the horizon, U.S. manufacturers are facing a labor challenge on a grand scale. Based on current statistics and projected demands, U.S. manufacturers will need to fill more than 2.5 million jobs within the next decade just to maintain pace. What does that mean for communities, educators, and people entering or reentering the workforce? Project MFG offers a one-word answer: Opportunity.
Project MFG is the result of a collaborative effort between communities, educators, and industry partners rising to join the U.S. Department of Defense and the U.S. Industrial Base Analysis and Sustainment Program, a three-day skills challenge and program that fulfills important needs for individuals as well as entire communities.
"Danville is uniquely positioned to rise to the challenge and help meet the demand of modern manufacturing," said DCC Computer Numerical Control (CNC) Precision Machining Flow Cell Technology Coordinator & Lab Technician Tim Robertson. "As an educational institution with manufacturers in need of qualified workers nearby, we identified an opportunity to do something significant for our students, our community, and our nation. Our programs are preparing students to take on important projects. A ProjectMFG competition gives us a chance to rise and shine, and we're ready to do just that." 
Project MFG Skills Challenges are being planned throughout the United States in 2019, ramping up to a National Championship in late 2020. For more information about Project MFG events and ways to get involved, go to www.projectmfg.com.
Danville Community College is a two-year institution of higher education under the state-wide Virginia Community College System. DCC's service area includes the City of Danville, Pittsylvania County, and Halifax County. For more information about the college's nearly 100 programs of study, visit www.danville.edu.
Add To Any Selector
Share
Facebook
Twitter
Contacts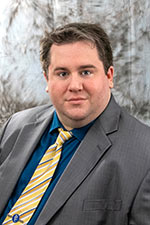 Bobby Allen Roach
Public Relations and Marketing Specialist III