April 12, 2021
5:30 PM - 6:30 PM
Join us for Spring Fling Week! Activities are happening throughout the week all virtual! 
Let's start the week off by being "ahhmazed" on a Monday evening with Trent James...
Comedy magician, Trent James is bringing a fresh new feel to the "classic magic show". Trent's high-energy performance combines mind boggling magic with gut busting humor that has earned rave reviews in seventeen states. Trent is now quickly becoming one of the top magicians in the country. Don't take our word for it…he has received top awards from both The International Brotherhood of Magicians and The Society of American Magicians, as well as being the youngest recipient of The Milbourne Christopher Award (Past winners Included David Copperfield and Penn and Teller). Trent's unique sleight of hand magic and hip vibe have made him a huge hit at colleges, comedy clubs, and corporate events. The Trent James is open to all DCC faculty, staff & students!
Click here to sign up: https://thecollegeagency.zoom.us/webinar/register/WN_qjMIGFy8Q-iLFxpePSUBSw
Add To Any Selector
Share
Facebook
Twitter
Contacts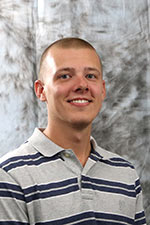 Kevin Gatewood
Student Activities Coordinator