Certifying Success with Credentials
For the individual looking for a new position, nothing gives you a better chance of landing that job than having the required credential. 
With many new and expanding companies in and around our service region, and the Commonwealth, industry-recognized credentials and certifications are rapidly becoming more critical. FastForward is a high-demand program helping Virginians get the jobs they want and the salaries they need. FastForward programs are short-term training courses that will help you fast-track your career.
---
Classes for Job Seekers
DCC's FastForward program is designed to train participants in weeks or months for available regional jobs and to provide them with an industry-recognized certification to open doors to employment.  With more job seekers working on their next career move from home, FastForward is converting classes as needed to entirely online learning or a combination of online instruction and small group hands-on application. 
Classes available at low cost or no cost, thanks to grants available to all residents of Virginia, regardless of age or income level.
---
Programs with FastForward support include:
Certified Nursing Assistant (CNA)
Are you looking for a career that matters? Then we are looking for you! Come join the growing community of healthcare providers by signing up for Nurse Aide Training at Danville Community College. Our new short term non-credit program includes 140 hours of professional, detailed, and goal oriented training over a 6 week period. The program consist of classroom lecture, hands-on Skill lab practice and onsite clinical experiences. 
Upon satisfactory completion of the program and meeting eligibility requirements students can take the Virginia Board of Nursing Nurse Aide Certification Exam. That's not all, you will be American Heart Association CPR and First Aid Certified. Employment opportunities are currently available in long-term care, assisted living, and Home Health Care, residential care and hospital settings. Come join us as we prepare you for a career that truly matters, by professionals who understand your value.
Job growth for Nursing Assistants is expected to be at a rate of 21% over the 2012-2022 decade according to the Bureau of Labor Statistics. Faster than the average of all occupations.
Funding assistance available to qualified applicants
---
MT1
The Manufacturing Technician 1 (MT1) certification program was developed to meet the growing employment demands of the manufacturing industry. The MT1 program addresses the core industry-wide skills standards required for skilled production occupations in all sectors of manufacturing.
This certification is a stackable credential that can help you on a pathway to a specific career within the manufacturing field, such as multi-craft (industrial maintenance/mechanic), and mechatronics. It includes the Manufacturing Skills (6 weeks) & Manufacturing Technician (2 weeks) certifications.
Students taking this intensive training program are prepared for entry-level positions with regional manufacturers making competitive wages, benefits, and opportunities for advancement.
Students will receive:
Hands-on skills & practical knowledge for Advanced Manufacturing
AC/DC Electrical, Pneumatics, Relay
Controls, and Hydraulics
Develop computer skills with web-based simulators and train on equipment during lab sessions to maximize understanding of Math & Measurement, Technology & Spatial Reasoning,
Quality & Business Acumen topics.
Achieve technical competencies to improve job opportunities and career advancement in modern manufacturing and industrial technology.
Funding assistance available to qualified applicants
---
CompTIA A+ 
CompTIA A+ - Start date upon registration - The training is developed to provide students with ready-to-work skills and knowledge and obtain a Level 1 recognized certification for IT Professionals. Students will be provided training to obtain CompTIA A+ certification as well as specific training related to communication skills and helpdesk troubleshooting. Classroom activities will include practical labs focused on learning outcomes. Students completing the training will have the skills and knowledge to work a technical helpdesk and a solid introduction to the skills required for Network Operations Center (NOC) jobs.
Funding assistance available to qualified applicants
---
CompTIA Network+
CompTIA Network+ Start date upon registration
This course is intended for entry-level computer support professionals with a basic knowledge of computer hardware, software, and operating systems who wish to increase their knowledge and understanding of networking concepts and acquire the required skills to prepare for a career in network support or information technology (IT) skills necessary to succeed in high in demand IT jobs
Here are some of the key skills certified CompTIA Network+ professionals can exhibit:
Manage and troubleshoot a basic network infrastructure.
Install, operate and configure wired and wireless networks.
Identify and explain common networking protocols and ports.
Identify and troubleshoot performance and connectivity issues.
Install, configure and differentiate between common network devices.
Describe networking technologies and basic network design principles.
Adhere to wiring standards and use the latest network testing tools.
Funding assistance available to qualified applicants
---
CDL Truck Driving
Mon. – Thurs, 7am – 5pm Full or Part-Time Training Options
CDL truckers are in high demand, and the demand is growing. A simple search for CDL jobs in your area will yield thousands of job opportunities. Even better, CDL truckers are in such demand that employers are raising the bar with signing bonuses and great benefits!
To qualify for Commercial Driver's License Training (CDL) through DCC's Workforce Services, drivers must:
Possess a valid driver's license
Pass a DOT physical and drug screening
Provide a copy of driving record
Have a commercial learner's permit
We offer full or part-time training options at facilities located in Danville, Virginia. Applications are accepted on an on-going basis throughout the year, and you may be able to obtain your CDL in as few as 20 days!
DCC Workforce CDL classes are conducted in partnership with SVCC Tractor Trailer Training.
Funding assistance available to qualified applicants.
---
Welding GMAW – 6 week program
The Gas Metal Arc Welding class is created with the intention of making completers more employable with GMAW stainless steel welding skills.
Learn fundamentals of GMAW (MIG)
Learn how various shielding gases affect gas metal arc welding
Individual booth time will be dedicated to welding on mild steel, stainless steel and aluminum in all welding positions
Funding assistance available to qualified applicants.
---
Welding GTAW 4-6 week program 
The Gas Tungsten Welding is created with the intention of making completers more employable with GTAW stainless steel welding skills.
Understand the fundamentals of using steel, stainless steel and aluminum.
Practicing welds on thin, flat aluminum, carbon and stainless steel (does not include thick-plate, pipe or other irregular shapes).
Edge, corner, lap and fillet welds in all positions.
Funding assistance available to qualified applicants.
---
Coming Soon
Plumbing 1
Begin a career in plumbing with this hands-on training, which prepares you for entry-level positions in the field. The program uses the industry recognized National Center for Construction Education & Research (NCCER) Construction Core and Plumbing Level 1 curricula.
Electrical 1
Begin a career in the electrical field with this hands-on training course. You will learn construction safety, construction math, and electrical theory and drawings. You will also study introductions to electrical circuits, National Electrical Code, device boxes, hand bending, raceways and fittings, conductors and cables, electrical test equipment, and more.
---
Approved Training Programs
Business & Customer Service
Senior Professional in Human Resources
Health Care
Certified Nurse Aide • Emergency Medical Technician • Emergency Medical Technician - Intermediate
Information Technology
CISCO Certified Entry Networking Technician (CCENT) • CISCO Certified Network Associate • CISCO Certified Network Professional • CompTIA A+ • CompTIA Network+ • CompTIA Server+ • Microsoft MTA Networking Fundamentals • Microsoft MTA Server Administration Fundamentals
Logistics & Transportation
Commercial Driver's License Class A Endorsement
Skilled Trades
Backflow Prevention Device Certification • Electrical - Level 1 • Electrical - Level 2 • Electrical - Level 3 • Electrical - Level 4 • Electrical Journeyman • Electrical Tradesman License Renewal • HVAC Tradesman License Renewal • Plumbing Tradesman License Renewal
Welding & Manufacturing
Certified Production Technician • Certified Welder • Gas Metal Arc Welding (GMAW) • Gas Tungsten Arc Welding (GTAW) • Level I CNC Milling: Operations • Level I CNC Milling: Programming Setup & Operations • Level I CNC Turning: Operations • Level I CNC Turning: Programming Setup & Operations • Level II CNC Milling Skills II • Level II CNC Turning Skills II • Manufacturing Specialist (MS) • Manufacturing Technician 1 (MT1) • Measurement, Materials, and Safety • Siemens Mechatronic Systems Certification Program Level 1
Contacts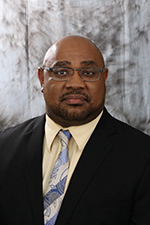 Chadrick Younger
Director of Workforce Services