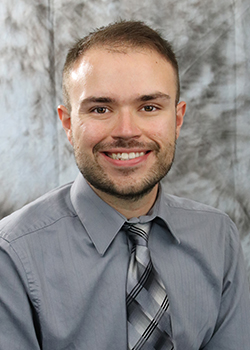 Danville, Va., July 3, 2019 — Danville Community College (DCC) announced this week the hiring of Justin Nichols as full-time research analyst and assessment coordinator in the college's Center for Organizational Excellence & Data Analytics (COEDA) on July 1.
Nichols, a 2016 graduate from DCC and a lifetime resident of Southern Virginia, worked for the previous two years and six months as a part-time research assistant to the director of institutional planning, effectiveness, and research. He holds three associate of applied sciences degrees in information systems technology: Computer programming, network engineer, and PC technology, three career studies certificates: Network technology, networking with CISCO/CCNA, and PC upgrade and repair, and one industry certification: Microsoft Technology Associate.
"Not long after I started in my part-time role on campus, I developed the college's first online interest form for prospective students to request information about DCC using skills I acquired in DCC's computer programming, now software development, program," Nichols explained. "I've since developed and maintained numerous web forms, web pages, automated system processes, software applications, and dashboards to assist the college in performing its duties more effectively and efficiently. I've also created and implemented new survey instruments and processes for performing assessments on our academic offerings to ensure that we are continuously improving, as well as maintaining our compliance with standards set forth by the Southern Association of Colleges and Schools Commission on Colleges (SACSCOC)."
"I have been incredibly impressed with Justin's strategic thinking, command of data management, and proven ability to present complex data clearly and in visually appealing ways," said DCC Director of Planning, Effectiveness, and Research Cory Potter. "We are excited to have Justin's expertise in this new capacity in our efforts to enhance the way we use data at DCC."
Nichols' responsibilities in this role include conducting research using DCC's student data, helping DCC to measure student satisfaction, and presenting data visually to enhance the way the college uses data to inform decisions, among many other day-to-day tasks and special projects.
"I am really looking forward to bringing more innovative ideas and solutions to DCC to help make the student experience the greatest it has ever been and continuing to support our faculty and staff," Nichols added. "I am optimistic about our future and I'm excited to continue my work here at DCC."
Danville Community College is a two-year institution of higher education under the state-wide Virginia Community College System. DCC's service area includes the City of Danville, Pittsylvania County, and Halifax County. For more information about the college's more than 100 programs of study, visit www.danville.edu.
Add To Any Selector
Share
Facebook
Twitter