Danville Community College (DCC) in partnership with the City of Danville, launched Project Rebuild, a multi-faceted program that aims to provide workforce training to at-risk youth, ages 18-25, in our community on Monday, November 19 at a media event held on the DCC campus. The program will provide free 10- to 30-day training for individuals in that age range who meet the financial requirements. No GED or high school diploma are required.
Robert David, certified gang specialist and at-risk youth coordinator for the City of Danville and Vice Chair of Danville Community College Advisory Board, along with Dr. Brian Jackson, vice president of Workforce Services at DCC, is providing a direct path to higher education, funding, and student support services to individuals who have been identified through Mr. David's work with young men and women in the area.
"Community support is at the heart of everything we do at DCC," said Jackson. "We are leveraging our programs and resources to meet these students where they are, and to provide a clear path forward to a better tomorrow."
Students in the Project Rebuild program will have the opportunity to choose from a wide variety of workforce programs, allowing participants to realize their dreams in a career field of their choosing.
"We are proud to partner with DCC to transform the futures of those 18- to 25-year-old individuals who are looking to rebuild their lives in Danville and the surrounding area," said David. "We know that higher education is a game-changer and, coupled with the support student services that DCC offers, we are confident that this program will be a life-changing opportunity. As the DCC Board's vice chair, I am proud to be involved in this initiative."
The program, which is geared toward construction, electrical, and plumbing professions, is an extension of the City of Danville's Project Imagine, which is geared toward giving gang-affiliated teens a future off the streets.
DCC provides transportation assistance, food and nutrition support, help with the Federal Student Aid application, scholarships, and a myriad of other services to give students their best chance at success when enrolling in a program.
"We are always working to ensure that there is nothing stopping anyone who wants to reach their higher-education goals at DCC," said Jacqueline Gill Powell, president of DCC. "By providing wraparound services that address every area of a student's life, especially their most basic needs, we ensure success and support from the beginning of a student's educational journey, to graduation day."
For more information about Project Rebuild, contact Dr. Brian Jackson at brian.jackson@danville.edu or Mr. Robert David at robert.david@danvilleva.gov.
Danville Community College is a two-year institution of higher education under the state-wide Virginia Community College System. DCC's service area includes the City of Danville, Pittsylvania County, and Halifax County. For more information about the college's nearly 100 programs of study, visit www.danville.edu.
Add To Any Selector
Share
Facebook
Twitter
Contacts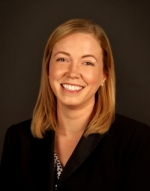 Faith O'Neil
Director of Public Relations & Marketing
Freedom of Information Act (FOIA) Officer