Danville Community College (DCC) alumna Whitney Harrell, née Minter, recently earned a doctoral degree, following her graduation from DCC's first registered nursing class in 2011.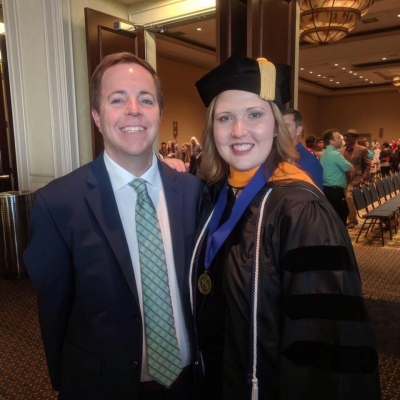 Harrell, 29, of South Boston, holds a 2012 Bachelor of Science Degree in Nursing from Virginia Commonwealth University, a 2017 Master of Science Degree in Nursing, Family Nurse Practitioner, from Jefferson College of Health Sciences, and a 2019 Doctorate of Nursing Practice from Frontier Nursing University.
She earned these degrees all while employed full time, working and advancing through a number of esteemed local healthcare organizations, including Roman Eagle Memorial Home in Danville where she worked as a charge nurse, was promoted to a nursing supervisor, and promoted again to assistant minimal data set coordinator. Upon receiving her certification as a family nurse practitioner from the American Association of Nurse Practitioners, Harrell began working at Carilion Clinic Internal and Family Medicine in Martinsville. Whitney married Winston Harrell of South Boston on June 29, 2019. She now works at Piedmont Access to Health Services (PATHS) in South Boston.
Originally from Axton, Harrell said she had always wanted to work in healthcare.
"Growing up, my mother was frequently in and out of doctors' offices and required a lot of medical care. I think that is what really interested me in the healthcare field," Harrell explained. "I chose nursing in general over another career in healthcare because it was a program I could complete in a reasonable time frame that would provide me with a decent annual income and living. I was attracted to the nursing program at DCC because, at that time, the only other program was the hospital's diploma program, and diploma programs were not as popular as they used to be. Also, DCC's program was a lot cheaper than the hospital's program."
She said that she attributes her success to the foundation of education she received in Pittsylvania County as a 2008 graduate of Tunstall High School and in Danville at DCC.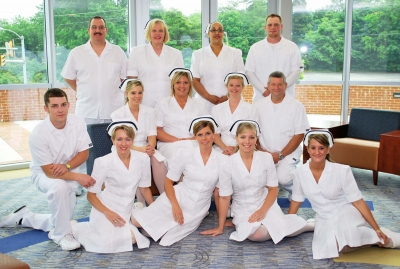 "I chose DCC for two reasons: I did not want to go far from home and from my family; finances also influenced my decision," Harrell said. "I grew up in a lower-middle-income household. I qualified for federal grants and scholarships to pay for my education at DCC and it seemed like a wise financial decision. I originally intended to complete my first-year studies at DCC and then transfer to Danville hospital's school of nursing; however, my plan changed after meeting with my academic advisor, Cathy Barrett. She informed me of DCC's new, upcoming RN program—at the time I began my first-year studies at DCC, they only had the LPN program. Mrs. Barrett helped me to register for two compressed anatomy and physiology courses with Dr. David Balfour so I would be eligible to apply for the first-year RN program when it started that fall."
From there, Harrell said, her academic path led her to create some of the fondest memories she has of college.
"I had a great experience at DCC. I feel like I obtained an excellent education that set the foundation for the remainder of my academic journey. I utilized a lot of resources that DCC offered and had a positive experience with my counselors, advisors, financial aid department, and teachers. DCC's greatest strength is its faculty. I encountered helpful faculty and well-trained professors during my time there," Harrell explained. "While reminiscing about my time at DCC and trying to figure out my fondest memory, I recalled a few good ones. I remember Dr. David Balfour yelling 'Give me candy' in his advanced anatomy and physiology course; I remember Mr. Jeff Smith, one of my favorite nursing instructors, frequently replying 'Ask Ms. McKinney,' as we were ironing out the first-year RN program kinks, but my best memory is probably my nursing pinning ceremony and, at the conclusion, we played 'Teacher, leave those kids alone' from the song 'Another Brick in the Wall' by Pink Floyd."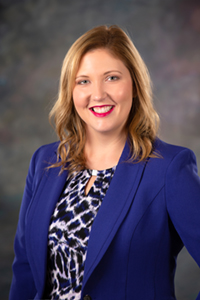 Now, known by her professional colleagues and patients as Dr. Whitney M. Harrell, FNP-C, she said she encourages current DCC students to take advantage of the many support services offered by the College, such as its tutoring center.
"My advice for current students is to utilize the services and opportunities that have been created to help you achieve success. I do not believe that any employee at DCC wants to see a current student fail and there are so many resources tailored for different student needs, all to help students achieve success and graduate," Harrell said. "My advice for prospective students is to weigh your academic options and discuss these options with your family, friends, and advisors. I absolutely love my community college and I am a huge advocate for taking full advantage of all the possible resources that are at your own back door, especially when these resources offer convenience and financial savings, with comparable outcomes. I am extremely satisfied with my decision to enroll and I have never regretted attending DCC. I would definitely do it again."
Since its first cohort graduated in 2011, DCC's registered nursing program has grown under the leadership of Director of Nursing Programs and Associate Professor Cathy Barrett. in March 2019, DCC's RN program was ranked as the number one program in Virginia by registerednursing.org. Two months later, the program received the same ranking by RNCareers.org.
"We have an excellent nursing program at DCC. Our students are prepared to meet the ever-increasing complexity of the healthcare needs of our society. Our three-year aggregate NCLEX pass rate is 95.66 percent. We are very proud of our graduates," Barrett said. "Students who choose nursing as a career commit to lifelong learning. Whitney certainly exemplifies that commitment as evidenced by the completion of her doctorate."
Registration for the upcoming summer and fall terms at DCC opens on April 1. Information about the registration process is available online at danville.edu/getstarted.
Danville Community College is a two-year institution of higher education under the state-wide Virginia Community College System. DCC's service area includes the City of Danville, Pittsylvania County, and Halifax County. For more information about the college's nearly 100 programs of study, visit www.danville.edu.
Add To Any Selector
Share
Facebook
Twitter
Contacts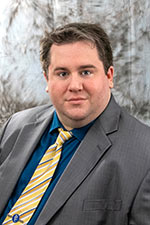 Bobby Allen Roach
Public Relations and Marketing Specialist III