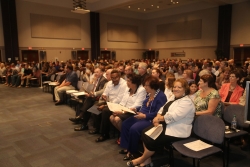 The Danville Community College (DCC) Educational Foundation honored scholarship recipients and donors during the 20th annual Scholarship Reception at the Institute for Advanced Learning and Research on Monday, September 9.
"This event is a testament to our donors' desire to further the educational opportunities in our region," said DCC Vice President of Institutional Advancement and Development and DCC Educational Foundation Executive Director Shannon Hair. "Their investment helps ease the burden of college costs for our students who might otherwise not be able to attend. The DCC students who were awarded scholarships this academic year are the future of our region and represent a $500,000 investment from our donors. The scholarship application for the 2020-2021 academic year will open in January and I encourage all of our students to apply."
More than 400 people attended the event and 193 students received scholarships from the DCC Educational Foundation this academic year.
Danville Community College is a two-year institution of higher education under the state-wide Virginia Community College System. DCC's service area includes the City of Danville, Pittsylvania County, and Halifax County. For more information about the college's nearly 100 programs of study, visit www.danville.edu.
Add To Any Selector
Share
Facebook
Twitter
Contacts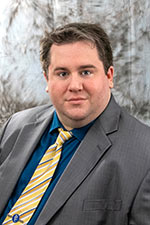 Bobby Allen Roach
Acting Director of Public Relations & Marketing; Freedom of Information Act (FOIA) Officer