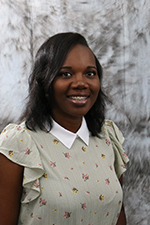 Danville, Va., September 1, 2019 — Danville Community College (DCC) hired a new financial aid support specialist this summer.
Kamesha Townes joined the DCC staff in July and is focused on assisting students, parents, faculty, and staff in answering financial aid-related questions.
A 2016 graduate of DCC, Townes came to work at the college after leaving SOVAH Health and is currently pursuing a bachelor's degree from Bellevue University.
"This is a position that I prayed about, and I love my new role," Townes said. "I am hoping for growth within DCC. Everyone here is friendly and willing to help. I would like to thank DCC for giving me the opportunity to be a part of making a difference in students' lives."
Danville Community College is a two-year institution of higher education under the state-wide Virginia Community College System. DCC's service area includes the City of Danville, Pittsylvania County, and Halifax County. For more information about the college's more than 100 programs of study, visit www.danville.edu.
 
Add To Any Selector
Share
Facebook
Twitter