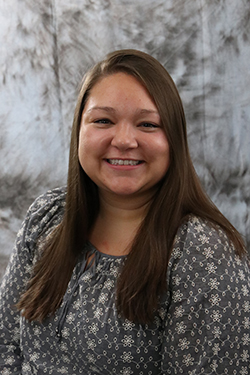 Danville, Va., August 22, 2019 — Danville Community College (DCC) recently hired a new full-time student success coach through the College Success Coach Initiative (CSCI) under the Virginia Community College System (VCCS).
Megan Elgin graduated from DCC in 2015, from the college's two-year liberal arts program, before transferring to the University of Virginia to earn a bachelor's degree in sociology in 2017.
Elgin, originally from Danville, most recently worked as a high school career coach for DCC.
"I am excited to be working with the wonderful students at DCC," Elgin said. "As a student success coach, I hope to build meaningful relationships with the students and encourage them to strive for success inside and outside of their academics. As a student and an employee, I have always thought highly of DCC. I think that our college is fun, friendly, and inviting."
Danville Community College is a two-year institution of higher education under the state-wide Virginia Community College System. DCC's service area includes the City of Danville, Pittsylvania County, and Halifax County. For more information about the college's more than 100 programs of study, visit www.danville.edu.
Add To Any Selector
Share
Facebook
Twitter