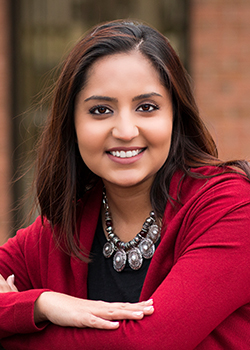 Danville, Va., July 3, 2019 — Danville Community College (DCC) welcomed Sahrash Akram back to campus this week as she began her new role as transfer counselor.
Originally from Alexandria, Akram is no stranger to the DCC campus. In fact, she graduated from DCC in 2012. During her time as a student, she participated in the work study program and, in 2016, she was hired as a student success coach.
"Coming back to DCC has felt like coming home," Akram said. "The staff is super welcoming and very helpful. I am genuinely looking forward to fulfilling the transfer counselor role."
Akram said she believes her background as an alumna and her continued studies will help her better serve DCC's transfer students.
"I was one of DCC's students that transferred to George Mason University and got my bachelor of science degree in economics, and I was a first-generation college graduate, so I am familiar with the process and the struggle," Akram explained. "I understand some students need guidance, information, and someone to nudge them in the right direction."
Akram also recently earned a master of business administration degree from Averett University.
Virginia's community colleges offer students more than the opportunity to earn a degree or certificate. They provide a gateway to the commonwealth's four-year colleges and universities.
Through system-wide agreements, students who graduate from one of Virginia's 23 community colleges with an associate's degree and a minimum grade point average may obtain guaranteed admission to more than 30 of the commonwealth's colleges and universities.
Transfer programs offered at DCC include Business Administration, Engineering, Science, Science – Computer Science Specialization, Liberal Arts - Associate in Arts & Science, Liberal Arts - Humanities Specialization, and Liberal Arts - Social Science Specialization.
To find out more about DCC transfer, visit danville.edu/transfer or email transfer@danville.edu.
Danville Community College is a two-year institution of higher education under the state-wide Virginia Community College System. DCC's service area includes the City of Danville, Pittsylvania County, and Halifax County. For more information about the college's more than 100 programs of study, visit www.danville.edu.
Add To Any Selector
Share
Facebook
Twitter