Danville Community College (DCC) and the City of Danville celebrated the commencement of the first Project Rebuild Cohort on December 23, 2020. 
"This commencement was a landmark moment for Project Rebuild and we are exceptionally proud of this first group that stayed the course and completed the program," said Brian Jackson, Vice President of Workforce Services for Danville Community College. "Now, we are looking ahead to the next cohort and the fine-tuning of Project Rebuild to meet the needs of the community."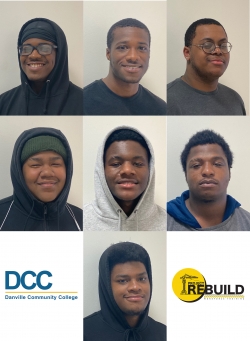 The next Project Rebuild cohort will begin classes on January 11. As with the first cohort, students have been selected by Robert David, gang violence prevention coordinator for the City of Danville and vice chair for the Danville Community College advisory board.
 The program, which is geared toward construction, electrical, and plumbing professions, is an extension of the City of Danville's Project Imagine, which is geared toward giving gang-affiliated teens a future off the streets. Funding from the Re-employing Virginians (REV) initiative makes Project Rebuild possible, with no-of-pocket cost for the student. 
"Our aim with this program is to provide training to at-risk individuals in an effort to make their future bright and to make the City of Danville a place where goals can be achieved," said David. "Our partnership with Danville Community College is an example of the collaboration we need to make our communities better places to work and live."
DCC provides transportation assistance, food and nutrition support, help with the Federal Student Aid application, scholarships, and a myriad of other services to give students their best chance at success when enrolling in a program.
"Our primary goal is to ensure that there is nothing stopping anyone who wants to reach their higher-education goals at DCC," said Jacqueline Gill Powell, president of DCC. "By providing a safety net of services that address all areas of a student's life, especially their basic needs, we ensure success and support from the beginning of a student's journey with us, to graduation day."
For more information about Project Rebuild, contact Dr. Brian Jackson at brian.jackson@danville.edu or Mr. Robert David at robert.david@danvilleva.gov.
Danville Community College is a two-year institution of higher education under the state-wide Virginia Community College System. DCC's service area includes the City of Danville, Pittsylvania County, and Halifax County. For more information about the college's nearly 100 programs of study, visit www.danville.edu.
 
Add To Any Selector
Share
Facebook
Twitter
Contacts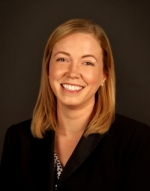 Faith O'Neil
Director of Public Relations & Marketing
Freedom of Information Act (FOIA) Officer