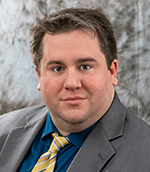 Danville Community College (DCC) Acting Director of Public Relations and Marketing Bobby Allen Roach brought home three awards from the National Council for Marketing and Public Relations (NCMPR) District 2 Medallion Awards this year.
Presented during the 2019 District 2 Conference in Asheville, N.C., in October, DCC won gold, silver, tied with Piedmont Virginia Community College, and bronze in the print advertisement category.
The gold-winning print ad, entitled "I dream of becoming," is an exploration of the self. Framed in the perspective of the reader, the text "I dream of becoming:" appears against a stark white background, immediately followed by a solid line, which is accompanied by multiple careers or personal aspirations in a list that fades as you read up or down the page. On the line reads the completed sentence: "I dream of becoming my best self." The reader is then challenged to take the next steps in three simple words: "Make it happen."
"At DCC, we are all about the student. We are so focused on what they need to succeed and we want to show everyone in the college's service region that their dreams can be realized, too, by starting, or even continuing, their journey at DCC," Roach said.
The silver-winning ad, "Find Yourself Here," features a three-dimensional rendering of DCC's main campus at 1008 South Main Street in Danville, along with the college's remote locations at the Regional Center for Advanced Technology and Training (RCATT) and the Gene Haas Center for Integrated Machining on Slayton Avenue in Danville's Cyber Park. The letters H, E, R, and E are used as photo frames to showcase different aspects of the DCC student experience, punctuated with a warm "Welcome home."
"We often refer to ourselves as the 'DCC family.' This includes college personnel, students, stakeholders, alumni, donors, and anyone else whose life has been touched by DCC in some way," Roach said. "You'd be hard pressed to find a single person in the region who hasn't been impacted by DCC's influence and that is a testament to the amazing things the college is doing now and has done in the past."
The final winner in the print advertising category was, "At DCC, dreams are coming true every day."
"This was, by far, my proudest ad because it features four of our then-recent graduates and provides a glimpse into the bright futures that lay ahead for them," Roach said. "The more casual aesthetic using hand-drawn lines and textures evinces the intersection of lives that study in these buildings, walk these grounds, and make memories that will last a lifetime."
The theme of this year's NCMPR conference was "Rising to the Challenge."
"In all of my work, what I aim to do is inspire. That is, to shine a light onto something worth seeing or to show a new way to look at something," Roach said. "From there, we can innovate. And from there, we can change the world. That is what DCC is doing in Danville, Pittsylvania County, and Halifax County. I am proud to be a part of that."
NCMPR's District 2 includes Alabama, Florida, Georgia, Kentucky, Louisiana, Mississippi, North Carolina, South Carolina, Tennessee, Virginia, West Virginia, Bermuda, British Virgin Islands, and The Bahamas.
Danville Community College is a two-year institution of higher education under the state-wide Virginia Community College System. DCC's service area includes the City of Danville, Pittsylvania County, and Halifax County. For more information about the college's nearly 100 programs of study, visit www.danville.edu.
Add To Any Selector
Share
Facebook
Twitter
Contacts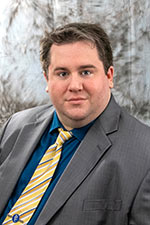 Bobby Allen Roach
Acting Director of Public Relations & Marketing; Freedom of Information Act (FOIA) Officer