Two hundred Danville, Pittsylvania County, and Halifax County residents were recently named to the Danville Community College Vice President's Honors List for the Fall 2019 semester. To be eligible, a student must be enrolled for six or more credit hours during the fall semester, have a cumulative grade point average (GPA) of at least 3.0, have a semester GPA of 3.0 to 3.74, and have completed a minimum of 24 semester hours at the college.
Students from the City of Danville
Cassidy Arender
Peyton Barber
John Blackwell
Kiayah Boone
Amanda Bowman
Julianne Breedlove
Devin Brittingham
Jeremy Carter
Michael Coleman
Anthony Crawford
Kaleb Cross
Hannah Davis
Nora Davis
Adam Dawson
Charity Easom
Xavier Ellis
Christian Ephriam
Matherly Eskey
William Farmer
Devin Gauldin
Angel Gibson
Reyna Grajeda
Sierra Gray
Elizabeth Hailey
Lauren Hall
Rylee Hall
Sarah Hall
Jacob Hardy
Natalie Harlow
Jordan Harper
Everardo Hernandez
Aubrey Holder
Matthew Holder
Taneka Holland
Rawley Hutcherson
Harper Jones
Valerie Keatts
John Leavy
Alexis Lewis
Farrah Lynskey
Mayra Maldonado
Benjamin Mann
Michael Mann
Ryan Marenyi
Drew Marshall
Jazmin Medrano Barajas
Wilson Moore
Mikayla Morris
Mason Morrison
Charlotte Parrish
Gavin Parrish
Dakota Rakes
Dakota Richmond
Kaitlyn Ritchie
Nicholas Russell
Alyssa Scearce
Caleb Shelton
Daniel Simpson
Adrian Stephens
Sharonda Swanson
Araceli Vazquez
Noah White
Robert Wiles
Shikeima Williams
Stephen Willis
Jazmyn Wimbush
Devin Womack
Zachariah Yeatts
Students from Pittsylvania County
Carrie Adams
Christopher Adkins
Seth Alverson
Shmanda Anderson
Shiane Arthur
Liberty Barker
Ryan Bartley
Christopher Boley
Rachel Calvert
Zachary Chandler
Dylan Cline
Sable Cobbs
Blake Cole
Bailey Coleman
Joseph Costagliola
Benjamin Dalton
Hunter Davis
Stacy Day
Haley Emerson
Misty Ermatinger
Baylee French
Chase Gauldin
Harley Gauldin
Christian Giles
David Glass Jr.
Jade Gould
Kyle Griffith
Olivia Hairston
John Hall IV
Mathew Hankins
Robert Hardy VI
Hailey Harris
Alyssa Harville
Robert Haskins
Taylor Henderson
Asa Herndon
Christopher Hodnett Jr.
Adam Ilconich
Jacob Ingram
Amanda Inman
Olivia Jones
Makenzie Keatts
James Keel
Elisha Lanier
Baylee Lovern
Baylee Lynch
Juan Maldonado
Sarah Martin
Pepper McCadden
Caleb McClimans
Nathan McClimans
Isaac Medrano
Breanna Mell
Jessika Millner
Tara Morris
Willard Moshenek
Wyatt Owen
Megan Philpott
Koby Potter II
Allison Preston
Ricky Pritchett Jr.
Ashley Pruitt
Madison Richardson
Tyler Riddle
Bailey Rinker
Isaiah Rosser
Miranda Sigmon
Santiago Silva Mendoza
Sara Simpson
Luis Solis
Clark Sowers
Seth Spears
Leah Thompson
Aleise Thornton
Ryan Tomlinson
Kennetria Torain
Jacob Tosh
Natasha Van Ness
Ronald Wells III
Nakyva Williams
Noah Williams
Kristin Wilson
Haylee Woods
Robert Worsham
James Yeaman
Students from Halifax County
Madeleine Barksdale
Justin Bates
Richard Blanks
Kyla Brown
Shea Carey
Isaac Clark
Marissa Cosner
Blake D'Amato
Chance Daniel
Samantha Dietsche
Caroline Edmunds
Matthew Epps
Peyton Gilbert
Maxwell Griffin
Cezly Guy
Jaxton Hart
Deaundra Jeffress
Ashante Lea
Ethan Long
Sarah McEwen
Taylor McKinney
Georgia Medeiros
Dylan Oakes
John Postell
Shadayjehia Powell
Sarah Reaves
Lashay Richardson
Princess Royal
Wendy Saenz Moreno
William Scheier Jr.
Jamie-Leigh Shelton
Allyson Sizemore
Corbin Slabach
Kayla Townes
Brooke Vaughan
Carleen Wade
James Wagstaff
Charles Waltman II
William Watts Jr.
Mehki Wood
Students from other areas
Jordan Ashworth
Mekkayla Hairston
Matthew Hylton
Noah Martin
Lauren Moldvay
Makala New
Ethan Ware
For more information about Danville Community College's nearly 100 programs of study and short-term career training options, visit www.danville.edu or call 434-797-8467.
Add To Any Selector
Share
Facebook
Twitter
Contacts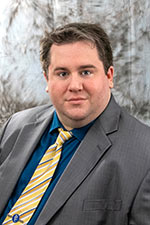 Bobby Allen Roach
Acting Director of Public Relations & Marketing; Freedom of Information Act (FOIA) Officer