One hundred and eighty-five Danville, Pittsylvania County, and Halifax County residents were recently named to the Danville Community College Vice President's Honors List for the Fall 2020 semester. To be eligible, a student must be enrolled for six or more credit hours during the fall semester, have a cumulative grade point average (GPA) of at least 3.0, have a semester GPA of 3.0 to 3.74, and have completed a minimum of 24 semester hours at the college.
Students from the City of Danville
Allison Bailey
Amanda Bowman
Berenice Carranza
Amanda Cothren
Zachariah Covington
Zachary Crumpler
Nicole Eanes
Stephanie Escobedo
Jamia Fonseca
Caitlin Foster
Lauren Gosnell
Patrick Haney
Lindsey Hardy
Kelly Harris
Briana Hernandez
Elise Hester
Peyton Hylton
Wednesday James
Lindsey Jennings
Brandon Jones
Destini Jones
Gary Jones
Valerie Keatts
Dylan Kendrick
Deonne King
Helen King
Christian Lancaster
Zachary Lovern
Benjamin Lynch
Jazmin Medrano Barajas
Carly Meeks
Carter Mills
Wilson Moore
Zachary Morris
Daniel Motley
Aubree Murray
Taneka Neal
Jacob Nelson
Kathryn Nunley
Gavin Parrish
Sydney Quesenberry
Marcos Ramos Jr.
Tyler Roark
Taliyah Rodgers
Joshua Shelton
Kamryn Shelton
Emily Sigmon
Daniel Simpson
Latoyia Smith
Wesley Smith
Melody Stoffel
Kaelan Terry
Lynnette Thomas
Christian Tiznado Sr.
Anthony Turner
Jamie Valentine
Ethan Via
Chad Weatherford
Melissa White
Tina Wilkerson
Caleb Williams
LaTasha Williams
Devin Womack
Beverly Wood
Kenneth Wood
Hunter Yeatts
Christa Zakhary
Students from Pittsylvania County
Jacob Adkins
Lily Adkins
Seth Alverson
Shmanda Anderson
Catherine Archer
Ryan Armstrong
Ryan Bartley
Zechariah Bennett
Benjamin Boles
Valencia Boone
Tanner Bray
Tyler Burke
Kennedy Cassell
Abigail Childress
Moaz Choudhery
Virginia Clerveau
Bailey Coleman
Jonathan Craft
Hali Criswell
Angela Dillard
Jack Donahue
Tiffany Duncan
Melissa Earp
Leah Easley
Phillip East
Nicholas Flood
Sabrina Francis
Alexandra Gauldin
Chase Gauldin
Luke Gauldin
Wendy Gilchrist
Jayzon Glass
David Golden III
Lisa Hairston
Ashley Harris
Vicki Hernandez
Julia Hill
Brittany Hogan
Megan Hollie
Wesley Honeycutt
Kennedy Huffstetler
Adam Ilconich
Jacob Ingram
Levi Johnson
Zach'aree Jones
Makenzie Keatts
James Keel
Tyler Kerns
Lauren King
Baylee Lovern
Jacob Marshall
Sarah Martin
Ebony McCray
Landon McGuire
Isaiah McLaughlin
Jessika Millner
Colin Moore
Kendall Moore
Ashleigh Morris
Mikayla Morris
Willard Moshenek
Lucas Owen
Kelonda Pauley
Megan Philpott
Justin Pine
Ashley Pruitt
Kelsie Puckett
Gloria Ramirez
Kayla Reamey
Bryce Reynolds
Rafet Sams
Guadalupe Santiago
Rachel Saunders
Kaylee Scarce
Lauren Scearce
Caribbea Sheets
Micheal Shelton
Montgomery Siebert
Miranda Sigmon
Santiago Silva Mendoza
Clark Sowers
Caleb Spencer
Christopher Tate
Aidan Thomas
Leah Thompson
Allen Toone
Jason Towler
Kiara Underdue
Caleb Van Ness
Stephen Van Ness
Ronald Wells III
Andrew Williams
Melinda Williams
Haylee Woods
Courtney Yarbrough
Students from Halifax County
Isaac Clark
Joshua Dawson
Aron Forest
Kendall Foushee
Maxwell Griffin
Jessica Johnson
Jared Mckinney
Georgia Medeiros
Kayla Mosley
Dylan Newton
Sarah Reaves
Jacob Sanford
Dylan Whitt
Jay Wynn
Students from other areas
Keelie Chattin
Paden Coghill
Megan Doige
Jackson Folley
Cristal Hernandez-Calvillo
Jacob Lindsey
Jacqueline Machuca Tiznado
Dylan Oakes
Kaylee Pitsenbarger
For more information about Danville Community College's nearly 100 programs of study and short-term career training options, visit www.danville.edu or call 434-797-8467.
Add To Any Selector
Share
Facebook
Twitter
Contacts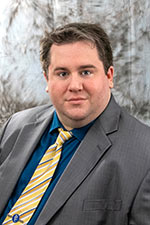 Bobby Allen Roach
Public Relations and Marketing Specialist III