On May 20, 2021, Danville Community College (DCC) Administration gathered with family and friends to present Virginia 'Poo' Roberts an honorary associates degree in humane letters for her service to the College, the Educational Foundation, and the community over the course of her life.
"It was such a pleasure to greet attendees at the ceremony for Virginia 'Poo' Roberts," said Dr. Muriel Mickles, Interim President of Danville Community College. "Ms. Roberts and her late husband have been huge supporters of Danville Community College and our students for many years. She continues to work tirelessly behind the scenes to help deserving students reach their goals for a productive life," Mickles continued. "Ms. Roberts is so gracious and deserving of this honor."
Ms. Roberts served as a Danville Community College board member from 1985 to 1993, serving as Vice-Chair in 1986. She and her husband, Dr. Lucien Roberts created the Roberts-Hunt Endowed Scholarship with the Danville Community College Educational Foundation, Inc. in 1992. Ms. Roberts went on to serve as an Educational Foundation board member in the mid-nineties, and in 2010, she and Dr. Roberts served as Honorary Co-Chairs of the Power of One, the College's first successful major gifts campaign. Ms. Roberts and her family continue to support the Educational Foundation annually.
"I can think of no one more deserving of this honor than Ms. Virginia 'Poo' Roberts," said Shannon Hair, Vice President of Institutional Advancement and Development and Executive Director of the Danville Community College Educational Foundation. "Ms. Roberts has always been such a proponent of education and, as such, has made significant contributions of time and resources to Danville Community College"
Ms. Roberts attended Mary Baldwin College and went on to teach English. In addition to her support of DCC, she was involved in the American Red Cross, the Halifax Regional Hospital Auxiliary, and the South Boston/Halifax County YMCA. She is a past Chair of the South Boston Industrial Development Authority and played an integral part in bringing several large industries to Halifax County.
Ms. Roberts also participated in the Downtown Revitalization Projects, developing two neighborhoods in South Boston. In addition, she has served on the board of SunTrust Bank, is a Master Gardener, and is a member of the South Boston Garden Club.
Add To Any Selector
Share
Facebook
Twitter
Contacts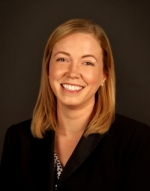 Faith O'Neil
Director of Public Relations & Marketing
Freedom of Information Act (FOIA) Officer