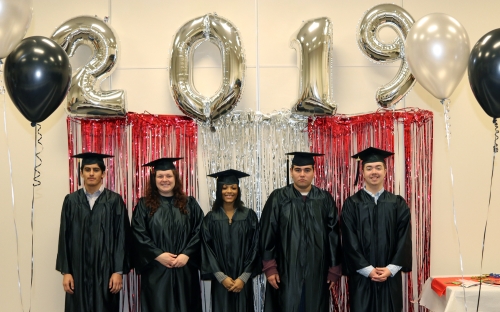 Danville Community College (DCC) recognized its Fall 2019 Middle College GED graduates during a ceremony on Tuesday, December 17, on DCC's main campus.
During the ceremony, DCC student Christian Tucker shared his experience as a graduate of Middle College and discussed the potential that becomes available through academic advancement.
"The rest of our lives will be wondrous," Tucker said, adding that the work students are putting in now will be well worth the effort in the long term.
GED graduates were Osam Alashmeli, Damion Bates, Hassan Boyd, Blake Fuquay, Aniya Randleman, Armando Rosales, Erin Tipton, and Terry Vannoy.
Alashmeli and Vannoy also received career readiness certificates for their work in the program.
"DCC's Middle College Program represents an opportunity for members in our community, no matter what their circumstance, to be all that they might be," said DCC President Jackie Gill Powell. "The difference this makes in our community is evident on the faces of today's graduates. I am moved by how proud they are and how proud their friends and families are. They deserve to be. I'm proud of them, too. Student success is what we are all about at DCC. Middle College prepares them to test for and earn their GED and best positions them for success in advancing to the next academic level, ultimately resulting in obtaining a degree or professional credential at DCC. Programs like Middle College are vital for making that vision a reality and for making meaningful, measurable impact in our community through the lives of our friends and neighbors."
Special recognition was given during the ceremony to JTI, Inc., for their dedication and funding, and to the DCC Educational Foundation for its ongoing support.
"The DCC Educational Foundation proudly underwrites the Middle College and Great Expectations programs at Danville Community College," said Vice President of Institutional Advancement & Development Shannon Hair. "The continued support from JTI Leaf Services is vital to the sustainability of DCC's Middle College program. These two programs help adults obtain their GED and receive academic and career readiness training."
DCC offers a variety of programs to support underserved members of the college's service region to achieve their academic and employment goals.
"A priority in my first five years at DCC is breaking down barriers—roadblocks—to success, both internally and externally, and empowering all members of the college community to be their best selves," Gill Powell said. "Seeing those dreams made real reminds me why I chose higher education as a career path, and I am thankful to be a part of the difference DCC is making in our community."
As for what's next for this cohort, at least five of this week's graduates have said that they plan to enroll in one of DCC's programs of study in the coming months.
"There are many ways to measure success," DCC Middle College Program Specialist Melissa Ireson. "Making it possible for our students to pursue their best lives is how we measure ours. Their success is DCC's success."
The event was conducted by Ireson and DCC Middle College tutors Byron Rawlinson and Joey Oliver.
To find out more about DCC's Middle College, contact Melissa Ireson at 434-797-8564 or melissa.ireson@danville.edu.
Danville Community College is a two-year institution of higher education under the state-wide Virginia Community College System. DCC's service area includes the City of Danville, Pittsylvania County, and Halifax County. For more information about the college's nearly 100 programs of study, visit www.danville.edu.
Add To Any Selector
Share
Facebook
Twitter
Contacts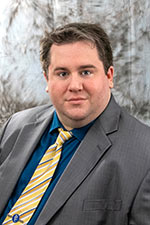 Bobby Allen Roach
Public Relations and Marketing Specialist III